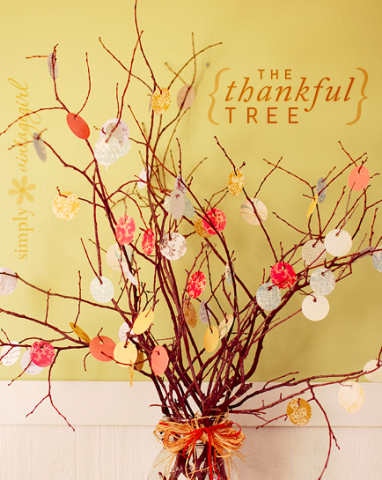 Photo courtesy of Simply Vintage Girl
 "Therefore, as you received Christ Jesus the Lord, so walk in him, rooted and built up in him and established in the faith, just as you were taught, abounding in thanksgiving."
Colossians 2:6-7
"Thankfulness puts us in God's living room. It paves the way to His presence." – Nancy Leigh Demoss
Do you need a little inspiration for celebrating Thanksgiving this year? Here are a few fun ideas I have stumbled upon (thanks in part to Pinterest) that we are including in our simple celebrations this year. Why five? It's doable. Simple. And yet rich with meaning.
1. Read the history of Thanksgiving. A great resource is Thanksgiving: A Time to Remember by Barbara Rainey. It retells the story in two different formats to enable you to adapt easily to a younger or mixed audience.
2. Make a Thanksgiving Tree (pictured above). Use a lovely arrangement of branches with little tags to record daily your blessings through this month of November. To keep it easy, I found little pre-made blank craft tags (under $2 for 25 tags) at Fred Meyer's for our tree (here's a picture of what we are using). Not as colorful as the one pictured above but doable for us and beautiful in its own way. Or try this even simpler version of cultivating thankfulness and giving by making the Thanks & Giving Trees.
3. Include others in your celebration. Is there any individuals (i.e. international students) or families that don't have relatives in the area? Include others as a way of reaching out in your community. If you look around, there are many lonely people during the season.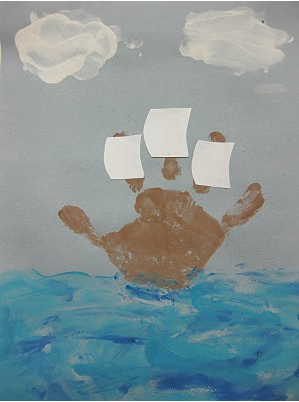 4. Let your kids tell the story. Walk through the story of the pilgrims and the first Thanksgiving with this fun hands on telling of the Thanksgiving story in a series of crafts. Make it together and then allow your kids to present it during your thanksgiving celebrations.
5. Read One Thousand Gifts by Ann Voskamp. It's the perfect time of year to buy your copy of this book and be blown away by the beauty and power of this woman's writing. She is truly a gift. Start recording your gifts one by one as you begin to see the precious daily gifts that surround us in the everyday mundane moments of life. This book is a treasure and the journey to record one thousand gifts is life changing. We shared many quotes from this book around the Thanksgiving table last year and it was very inspiring.
As Ann Voskamp so elegantly says: "The holy grail of joy is not in some exotic location or some emotional mountain peak experience. The joy wonder could be here! Here, in the messy, piercing ache of now, joy might be — unbelievably- possible! The only place we need to see before we die is this place of seeing God, here and now."
A few other fun projects for families:
Thanksgiving Craft Ideas- a pdf full of fun purposeful Thanksgiving crafts offered from Vision Forum. Includes a little menu craft for your thanksgiving celebration in which to write the 5 Kernels of Corn Poem.
Thanksgiving Corn Craft
Free Thanksgiving Coloring Pages
Printable Native American Headdress
Thanksgiving Paper Chain
"The greatest thing is to give thanks for everything. He who has learned this knows what it means to live…He has penetrated the whole mystery of life: giving thanks for everything." – Albert Schweitzer
The floor is open to hear your thoughts and creative ideas for Thanksgiving!