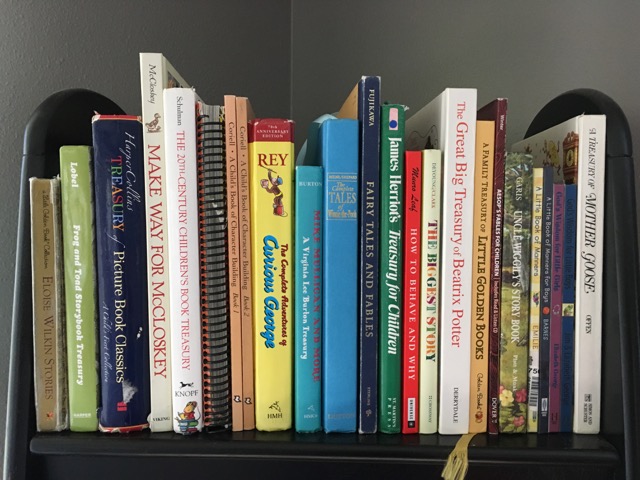 One lesson I have learned over the brief years of my homeschooling experience is…don't start too early. I was that over zealous excited mama of a smart little 4 year old. I was super pumped with the idea of homeschooling my own little flock, that I was confident beginning early would only help my children become smarter, more developed, and more prepared for life.
What could it hurt to start teaching her to read? She might be that brilliant one who picks it up early and will be reading The Hobbit at age 7 or 8. I loved browsing the curriculum catalogs and breathless at all the amazing curriculums available for my preschooler. SO many wonderful options…So I began investing in many different glamorous curriculums.
Most of these struggles really birthed out of my own pure vanity. I wanted to have the smart child that memorized amazingly lengthy poetry and recited it confidently before an audience. I wanted the child that learned to read at 4 years old. Aww…what a nice pat on the back I would get. It was all about me.
Fast forward several years, and you see a strained relationship between mother and daughter because I pushed too hard and too early. Reading lessons became a daily battle. Her love for learning was quickly eliminated. All in the name of getting a head start. This head start quickly became a huge step back. I had to learn the hard way to let go and give my child opportunity to just learn and explore. To play and observe the world around her. When I let go of our vigorous academic load and just give her more time, I found much more peace and joy flowing in our home.
If was only after this time, that I stumbled upon the wisdom and educational philosophy of Charlotte Mason. She strongly recommended that you do not start any formal academics till 6 years of age, and I have definitely seen the wisdom of this advice with my second child. She recommended these early years be a time devoted to developing good habits, character and obedience training, and filling their minds with wonderful good books and living ideas. In this way, the rest of the homeschool journey will be more smooth and peaceful as their little hearts are in submission to the authority in their lives. I am so thankful I have been able to allow my second child and subsequent children enjoy the journey without the pressure.
"In this time of extraordinary pressure, educational and social, perhaps a mother's first duty to her children is to secure for them a quiet growing time, a full six years of passive receptive life, the waking part of it spent for the most part out in the fresh air" (Charlotte Mason's Home Education, Vol. 1, p. 43).
Isn't that a freeing idea? Can we let our children spend their early years in the fresh air?
Simply Charlotte Mason has a great series about A Parent's Chief Duty – Early Years that I'd encourage you to read.
What does the early years look like now in our home? 
Preschool and kindergarten and well into 1st grade are simply a time of reading fun picture books, lots of playing, and a few fun basic workbooks when they feel inspired to join in with the older siblings.
I found my littles love to do what big kids are doing, so having some simple workbooks on hand were really convenient for feeding this interest. We have used the Rod & Staff preschool ABC workbook series a couple times now and really recommend it. (They call them "preschool", but the content is very much kindergarten materials. We skip the Bible stories ones because we use other Bible resources. We use the A-F set only, as they usually are ready to move on to something else after F. The G-L set are good for 1st grade, if you want to continue.) It is cheap and effective.
Most of what the average kindergarten curriculum include is just picked up through osmosis, so it really can be a waste of money to invest in a full preschool/kindergarten curriculum. The $20 workbook set from Rod & Staff just strengthens the knowledge they picked up through observation of the world around them.
My daughter, Eden (who just turned 5 years old) and I, will be reading through the books pictured above as our Kindergarten reading list this year. I love spending 5-15 minutes first thing each morning filling her little love tank (as my mother used to say). My toddler often snuggles up with us two. Our list includes some fabulous picture books that we've enjoyed a few times through now, and are in hardback editions, so they have good longevity. I love the collections style format, because they are so many stories in just one lovely hardback book. You don't have to deal with flimsy individual titles cluttering up your shelves. Most of them are also very reasonably priced, especially if you compare to purchasing the titles included in each collection individually. This list could easily carry us well into first grade…we'll see how far we make it. I am so excited to read these books once again with Eden.
After our reading time, she may or may not work on a page or two in her Rod & Staff workbooks while big siblings do their independent subjects. I never push it. That's it. Reading aloud to your littles is the best early years curriculum.
Here are our "must-read" of the titles pictured above (from left to right):
Eloise Wilkin Stories (Little Golden Book Treasury) - This is our favorite beautiful collection of children's stories about being Mommy's helpers, seeing God in nature, and so many more sweet stories.
Frog & Toad Storybook Treasury by Arnold Lobel –  Who can get enough of Frog & Toad? Probably my all-time favorite children's book. Everything by Arnold Lobel is delightful.
Harper Collins Treasury of Picture Book Classics - Some of our favorites in this collection include From Head to Toe by Eric Carle, If You Give a Mouse a Cookie, Crictor, and Caps for Sale
Make Way for McCloskey by Robert McCloskey – Make Way for Ducklings and Blueberries for Sals can't be missed!
The 20th Century Children's Book Treasury – selected by Janet Schulman – This collection includes such titles as Madeline, Chicka Chicka Boom Boom, Goodnight Moon, Millions of Cats, The Story of Ferdinand, and more.
The Berenstein Bears' Big Book of Science and Nature by Stan & Jan Berenstein – This is such a fun introduction to science and nature concepts, including calendar, seasons, weather, animals, plants, and the earth itself. Love this book!
A Child's Book of Character Building (book 1 & 2) by Ron & Rebekah Coriell – A great introduction to various character traits and how to apply them at home, school, play, and displayed in the Bible.
The Complete Adventures of Curious George by H.A. Ray – These collection has been read and re-read numerous time. Lots of laughter and fun.
Mike Mulligan and More: A Virginia Lee Burton Treasury  - Another of my favorite children's collections!
The Complete Tales of Winnie-the-Pooh by A.A. Milne – What's not to love about Winnie-the-Pooh?
Fairy Tales and Fables by Gyo Fujikawa – one of the most beautifully illustrated collected of classic fairy tales I have ever seen. We also love his A Child's Book of Poems and A Child's Garden of Verses.
James Herriot's Treasury for Children – lovely true animal stories from a veterinarian.
A Beatrix Potter Treasury- the collection I have appears to be out of print, so I linked to another similar complete collection.
Aesop's Fables for Children illustrated by Milo Winter – definitely the best Aesop's Fables collection with a wonderful CD as well. Just wish this edition was hardcover.
Uncle Wiggly's Story Book by Howard Garis – This collection of wonderful stories of the "bunny rabbit gentleman" and his adventures is a great transition from picture books to chapter books. Each story has a lovely emphasis on serving others and character building. The stories are magical and so engaging for kids. We will read this towards the end of the year. My Father's Dragon (although not pictured) is another favorite transition book.
A Little Book of Manners: Curtousy and Kindness for Young Ladies (or the boy version here)- Emily Barnes
God's Wisdom for Little Girls or God's Wisdom for Little Boys – Elisabeth George
A Treasury of Mother Goose illustrated by Hilda Offen – our list would not be complete without this fun collection of Mother Goose.
I also would like to add one of Shirley Hughes Alfie collections to our set this year.
When our littles turn 6 years old, and they begin to express interest in learning how to read, we begin All About Reading pre-reading curriculum, and gradually work about 15 minutes each day through this program, progressing into All About Reading Levels 1-4 over time (usually finishing by the middle of 3rd grade). Alongside phonics instructions, if they desire, we just use a basic 1st grade math book (only if they really want to start math, otherwise waiting longer is just fine too). And then they just sit in on morning time read-alouds with the older siblings. So freeing and sweet. Just another way that we eliminated until there was peace in our home, and the littles still learn so much through simple exploration and observation. Dress ups anyone?
Above all, these early years are a time to allow these littles ones to grow, explore, play, and just be a little child.
If you need more proof as the benefits of delaying formal education, please check out Raymond Moore's studies, Better Late than Early and materials by Charlotte Mason. As to the benefits of reading aloud, you can't miss The Read Aloud Handbook and the wonderful resources and podcast put out by The Read Aloud Revival (I don't use the membership, but the reading lists and podcast are fabulous and free). 
To return to part 1 and the index for this series, visit here.