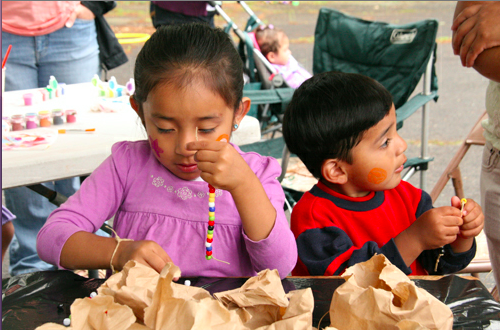 Guest post by Erin Odom from The Humbled Homemaker
Some of my most memorable summer experiences as a teenager involved going on both domestic and international mission trips. Whereas many of my peers looked forward to tanning on the beach or taking a trip to Disney World during our summer breaks, I spent the school year raising money for my next mission trip adventure–whether it be to the inner city of Philadelphia, Pennsylvania, the rugged coastlines of Scotland, or the poverty-stricken villages of Peru.
I couldn't deny God's calling to go and serve–and proclaim His gospel to the nations. I met my husband while serving a year-long term in Costa Rica after college. After we married, we spent summer "vacations" in China and Africa. And after our first daughter was born, we spent a semester ministering to refugees in Vancouver, British Columbia, Canada.
When we returned to the States and continued to grow our family, I struggled with how we'd apply our call to missions while living full-time in the United States.
I soon learned that families can minister both internationally and locally from home! Here are 7 ideas for an at-home summer mission "trip":
1. Sew pillowcase dresses together for Dress a Girl Around the World. This ministry collects handmade pillowcase dresses and distributes them to impoverished girls. Even the most novice of seamstresses can sew a pillowcase dress, and your daughters will enjoy learning how to sew for others. Pray over each dress before sending them off, asking the Lord to use the physical need you are meeting as an open door to share the gospel.
2. Host an orphan in your home. New Horizons for Children is a Christian-based, non-profit organization which brings school-aged, orphaned children from Eastern Europe to the United States to share the love of God and a family. You can host a child in your home for 6 weeks for a fraction of the cost of what it would take for your entire family to travel to another country for a week-long mission trip. Several families in my church have participated in this program–and many of the have children come to know Christ during their stay!
3. Collect baby formula for orphans. But isn't breast best? Well, yes, I'm a huge breastfeeding advocate and even nurse my own babies until they self-wean, but the raw facts are that millions of orphaned babies around the world have no mother to nurse them. There is often a shortage of donated milk for these babies, and without formula, they will die. Brighton Their World is an organization that collects and delivers both infant formula and handmade blankets to these needy orphans around the world.
4. Minister to nursing home residents together. Whether your children are young and can do nothing more than make cards, or if they are old enough to play games with the elderly, a visit to your local nursing home can prove a blessing to the sick and often-forgotten of your community.
5. Minister to a widow–while raising money for an adoption. James 1:27 says that "pure and faultless religion" is to look after widows and orphans. I love how Both Hands is a ministry that combines these. Instead of raising funds via running a 5K, etc., this ministry asks participants to solicit sponsors who will donate money, so they can help a widow with home repairs, painting, etc. The money then goes to a couple who is adopting an orphan. Older children can participate alongside their parents in the home repairs.
6. Send a care package and/or set up a Skype chat with international missionaries. Although it was only for a short time, my husband and I know the loneliness that international missionaries can experience while away from friends and family. Receiving a care package can be a huge encouragement and help renew weary missionaries. The gifts need not be big; most missionaries would be delighted to receive even the smallest of treats from their home countries. Is postage too much? Why not set up a virtual chat via Skype, where you can invite these missionaries "into your home.
7. Host a neighborhood Vacation Bible School. Some unbelieving families wouldn't dare drop their children off at a church VBS, but they may be more open to leaving them at a neighbor's home to play games, sing songs, make crafts…and learn about Jesus. Is your house too small? You can always host a one-day event at a neighborhood park. Check out some wonderful VBS materials through Children's Desiring God.
What are your ideas for a stay-at-home summer mission trip?
Erin is a believer in Jesus Christ and stay-at-home wife and mom of two little redheaded girls (with a third on the way!). She is passionate about Jesus, mission work, her family and researching how to live a healthier lifestyle. She writes for several print and online publications, blogs about natural living and homemaking at The Humbled Homemaker and also edits eBooks.