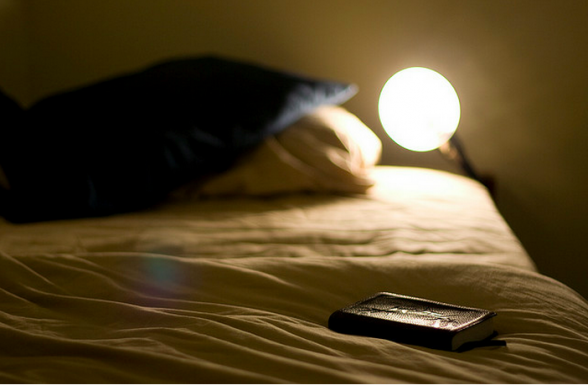 My desire is that my children would come to love and uphold the truth of Scripture in their precious hearts from their infancy. My prayer is that we might plant seeds of the gospel in their tender souls so they would desire to walk closely with Christ. I want to be able to memorize Scripture together with my children – combining storing truth in my heart and in their hearts at the same time. But how can this be done in a doable simple manner?
I was recently reading, Shaping of A Christian Family, by Elisabeth Elliot, and was inspired by her mother's writing in the introduction with this simple challenge:
"I found that simply repeating Psalms 23 each night to Jim after he was tucked in bed was a painless way of implanting this beautiful song of David in his heart and mind. Winthin a week he was beginning to say it with me, and it was part of the going-to-bed ritual. As he mastered Psalms 23, we added other Scripture.

In teaching young children, it is well to remember the words in Isaiah 28:10, 'For precept must be upon precept, line upon line, here a little and there a little.' It is thus our patient God has dealt with us; and so we must deal with our little ones, repeating often the Word of God so that it will be hidden in their hearts so they will 'not sin against God'."
Scripture memory doesn't have to be complex and overwhelming. It simply requires repetition. I think the key here for me was the idea of simply adding it to one of our other regular routines – bedtime! We already have a regular bedtime routine established which helps settle the little ones down for the night in a peaceful manner. Why not follow the challenge to just read an adopted portion of Scripture for memory work during this time?
In this past month, we started our bedtime routine with reading a passage of Scripture, followed by a bedtime story, before tucking them in with a goodnight prayer. We began with Psalms 23 as Elliot's mother had suggested. We read it multiple times a week for a two week period. It took maybe 5 minutes of time. We all just listened as I read it twice. In just two weeks, I was blown away at how both my 5 and 3 year old had memorized it completely.
I knew my 5 year old could do it as we have memorized a fair amount before…but hadn't tested my 3 year old son. I finally randomly asked him if he wanted to share it. With great speed and fluency (even more solidly presented than his older sister), my little guy recited all six verses in rapid time. It was such an encouragement to my soul. These precious souls are listening. Their hearts and minds are ready to be filled with truth and they can memorize more than we can imagine. Since completing Psalms 23, we have memorized The Lord's Prayer as well as Psalms 1 through this simple habit of reading a chosen portion of Scripture before bed.
Titus would like to share with you Psalms 23…May you be blessed today and encouraged that it is possible to  hide God's Word in your hearts as a family and in this way prepare your hearts to continue following hard after Him. I share this as an encouragement to all of us that God will reward your faithfulness!
If you can't view the video, click here.