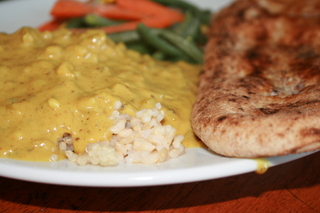 I have recently been on a mission to adapt most of our family favorite recipes into simplified crockpot adaptions that could easily be combined in a freezer ziploc bag for a future meal. I love my crockpot for the simplicity it provides to my homemaking – one pot meals with little mess to clean up afterwards. This week we made an easy adaption to my favorite chicken curry recipe, added a few more yummy vegetables, and threw all the ingredients in the crockpot. And guess what? It was our favorite curry yet! 
1-2 chicken thighs, cut into chunks
3-4 Tbsp curry powder (adjust depending on how spicy you like it)
1 Tbsp dry ginger (or 4 Tbsp fresh, finely chopped)
1 Tbsp garlic powder (or 4-6 garlic cloves, minced)
1 large onion, chopped
1 large sweet potato, peeled and cut into small chunks
1-2 zucchini, cut in small chunks
1 apple, diced
2 carrots, cut in small chunks
2 celery stalks, chopped
4 Tbsp arrowroot powder or cornstarch
1 Tbsp sea salt
1-2 Tbsp sucanat, rapadura, or other natural sweetener
2 1/2 cups chicken broth
1-2 cans (14 0z) coconut milk (adapt to your tastes)
Cut, chop, and prepare all your ingredients as described above and throw together in your crockpot. Turn crockpot on low for 4-6 hours. Stir on an hourly basis until fully cooked. You may desire to thicken further with additional flour or arrowroot powder or remove the lid during the last hour so some of the liquids can simmer off. We also like to add additional coconut milk and puree in the blender for the kids so it is not too spicy for them. Serve over a bed of brown rice and enjoy!
If you want to make this ahead of time for the freezer, simply combine all the raw ingredients above and place in a freezer ziploc bag. Store in the freezer until you are ready to thaw and prepare in your crockpot on another occasion. Be aware that it may take longer to cook if you place the ingredients directly from freezer to crockpot. This is crockpot freezer cooking for you!
I'm eager to adapt my recipes so we can have a weekly or monthly freezer crockpot meals preparation day! That would certainly simplify my life!