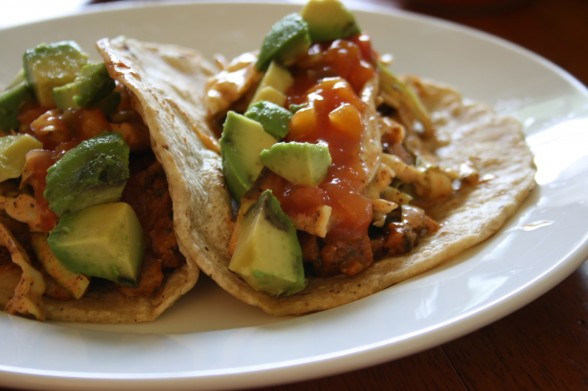 We are huge fans of fish tacos at our house – it is one of my hubby's favorite dishes and a wonderful summer meal. Plus it is super easy and healthy at the same time. A fun way to add some good nutritional fish to your diet, especially if you are like us and don't really care for it alone. This recipe uses a fish taco seasoning mix, but you are welcome to explore making your own seasoning. This mix contains a combination of: paprika, garlic, salt, red chilis, onion, cilantro, cumin, pepper, and coriander. I use the mix because it makes it especially simple to throw this meal together last minute and I have not found any recipe to compare to the flavor that is in the Simply Organic mix. It's that good!
Ingredients:
1/2 head green cabbage
1/4 cup mayonnaise
1/4 cup sour cream
2-3 limes (or 2-3 teaspoons lime or lemon juice)
1 Tablespoon chili powder
1 teaspoon sweetener (sugar, honey, sucanat, etc)
1/2 teaspoon sea salt
1 Tablespoon apple cider vinegar
1 pound wild cod or halibut fillets (I buy frozen wild Alaskan cod fillets from Trader Joes)
1 package (1.13 oz) fish taco seasoning (we use Simply Organic brand and love it! I buy it by the case from Azure Standard.)
1 avacado
Peach or Mango salsa (Trader Joe's sells a fabulous peach salsa that we enjoy!)
7-8 corn tortillas
Directions:
1. Cut up the fish into 1/2 inch strips or chunks, as desired. Place in a medium bowl and toss with fish taco seasoning mix and the juice of one lime. Allow to marinate as you prepare the rest of the recipe.
2. Thinly slice the cabbage and toss with mayonnaise, sour cream, chili powder, remaining lime/lemon juice, sweetener, salt, and apple cider vinegar.
3. Cut the avocados into small chunks and set aside in a small bowl.
4. Saute the marinated fish over medium/high heat until cooked.
5. Heat corn tortillas in another frying pan with a bit of olive oil or butter on both sides to warm and soften the tortillas.
6. Layer each tortilla with a layer of fish mix, dressed cabbage, avacados, and salsa. Top it off with a bit more lime juice, as desired. Serve and enjoy!
Yield: 4 servings (approx. 7-8 tortillas)