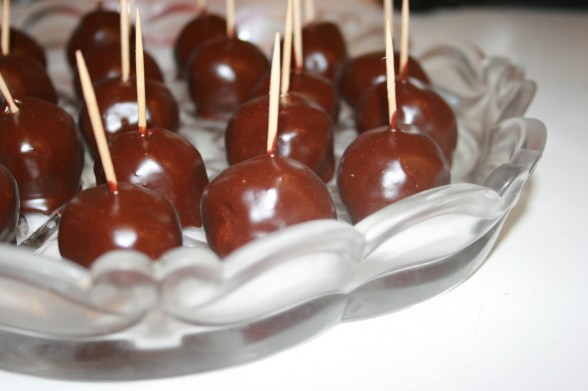 Want to make an extra special treat for your husband or the special man in your life? These chocolate peanut butter delights will surely bring a smile to his face and increase his love for you! Remember the way to a man's heart is through his stomach, and I have found it to be true. They are a true favorite for my hubby! Don't stop creating special goodies for him and he will be a blessed and happy man!
1 cup peanut butter (creamy is preferred)
2 cups powdered sugar (you can substitute with ground rapadura/sucanat, if desired)
1 cup chopped nuts
1/2 cup butter, softened
6 oz chocolate chips
3/4 Tablespoon paraffin household wax, optional (can be found in the baking section of your local grocery store)
Directions:
Mix together the peanut butter, powdered sugar, chopped nuts, and softened butter. Cover and chill in refrigerator till firm.
Roll into small 1 inch balls and chill again till firm.
Melt the chocolate chips and wax together in a double boiler, mixing constantly until fully melted.
Place a toothpick in each ball and dip balls into melted chocolate and set up on wax paper.
Chill balls again till firm. Serve and enjoy! Store in refrigerator.
The paraffin wax is an optional ingredient to help increase firmness and presentation. It can be easily eliminated or you can experiment with beeswax as a viable alternative.
Other yummy valentine treats: