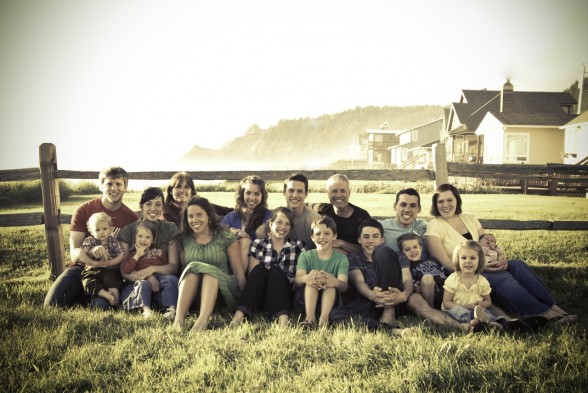 "Every decision we make is ultimately governed by some kind of interest or goal or objective or value or principle, whether we know it or not. A Family Mission Statement is an effort to bring to an explicit level what your goals and values are so that people are on the same page." – Stephen Covey
Proverbs 29:18 states, "Where there is no vision, the people perish: but he that keeps the law, happy is he," which has always challenged me in the importance of casting a vision and mission for our family. Without vision and direction, we could easily wander aimlessly through life and waste precious hours and moments that could be invested in the things of the Lord. We can get easily distracted in the superficial issues and lose sight of the greater purpose. I am often such a person, desiring great things in my heart, but never practically writing this out on paper and making a purposeful plan to review it regularly.
A mission statement is not something that is developed overnight, but it is invaluable frame of reference to use in making the everyday decisions in addition to the long term goals and plans. It is the inspiration that can encourage you when you have a challenging day. It can help refocus your family when you get off course. It answers the question: where are we going as a family? Where are we gifted that we could facilitate greater service to one another and the world around us? How can we purposefully accomplish that?
Where to Begin?
I encourage you to read 7 Habits of Highly Effective Families by Stephen Covey as an excellent source of inspiration and purpose for beginning this assignment. Here is the steps we took to develop our family mission. Make sure to make this a family affair, if possible, or if your children are young, you and your spouse. We will be far more effective if we seek to work together as co-labors in the mission God has assigned us.
1. Pray
Developing a mission statement cannot be completed without prayer. Spend as much time as necessary on this step, just seeking the Lord as to the direction he would desire for your family to take. Spend several days in preparation in this manner. We spent several weeks praying and thinking about the questions below individually before coming together to discuss it.
2. Ask Questions
Sit down together with your spouse and family and evaluate your passions and desires with these questions. Take lots of notes.
Where are we going as a family?
What are our priorities?
What are our strengths, gifting, talents?
What is the main purpose of our home?
What are practical ways we can serve each other?
What are practical ways we can serve others outside our family?
Name three things you think you could do better as a family.
What would people say today about our family as a whole?
What would we like people to say about our family as a whole in 30 years?
If our home could be filled with one emotion, what would it be?
How do you want to build relationships in your family?
Name three adjectives we would like people to use to describe our home environment.
If we could name one principle from which we want our family to operate, what would it be?
What characteristics do we want our children to have as they grow up? What do we want them to be skilled in?
For further questions to evaluate, check out Simple Mom & Family Cornerstone list.
Make note of any quotes or verses that stand out to you. Consider how you might incorporate these as well.
3. Narrow it Down
After evaluating the above questions, we narrowed our list down to our top ten priorities. Here is the list we compiled for our family based upon evaluating the questions above and our priorities:
God must come first ("Unless the Lord builds the house the workers labor in vain")
Proactively seek to confess sins, love, and be quick to forgive each other
Kind and not ashamed to show affection with one another
Mission minded – joyfully serving the Lord together
Living simply in order to give generously
Love for learning
Good stewards
Hospitable (caring)
Using gifts for the kingdom (computer programming, writing, teaching, music, etc.)
Grateful
4. Write Your Statement
Then we took those priorities and goals and compiled it into a mission statement. Our statement is still in process, but this was our first draft. I seek your help and accountability in sharing this. We do this not for our own sakes for the greater purpose of God's glory:
We will keep Christ at the center of our home.
We are committed to each other and will proactively practice humility, forgiveness, unconditional love, and share affection and encouragement with each other.
We are committed to living a missional lifestyle by living simply, giving generously, demonstrating hospitality, and cultivating gifts within each member of the family that can be used to further the Kingdom of God.
We will be good stewards of the earth that God has entrusted to our care.
Our home will be a place where grateful hearts abide and where a love for learning is always nurtured and encouraged.
We are raising our children as disciples that love to learn, give, work, serve, and in turn send them out to share Gods love with the world.
Ours is more lengthy at this point than it needs to be. Our short purpose statement has always been: living simply in order to give generously (read more about this passion in my original series Our Journey to Simple Living). Yours can be as short or as long as you desire. Stephen Covey's family statement is as follows:
To create a nurturing place of faith, order, truth, love, happiness and relaxation and to provide opportunity for every person to become responsibly independent and effectively inter-dependent in order to serve worthy purposes in society through understanding and living the Gospel of Jesus Christ.
5. Create Action Statements
With each priority listed, develop one or more action steps to complete over the next six months, year, or as you see fits best with your family. For us, we had to ask: how will we keep Christ the center of our home? By having regular family devotions, praying together at meals and the beginning of the day, and evaluating everything we do in our home to make sure Christ is honored. We will live missionally by reaching out in hospitality twice a month, welcoming new neighbors into our community, etc. By making action statements, you will be actively making steps towards the fulfillment of your goals in your home.
6. Set a Plan for Review and Evaluation
Mission statements will not go far without purposing to review them and evaluate your progress. Make a plan for this. Set up reminders on your computer to review it. We plan to review on a yearly basis when we do our year end evaluation, but also when we get away on vacation throughout the year.
With each and every thing we consider adopting or committing to as a family, we need to ask: what has this to do with that? Asking this in light of our mission statement and the glory of God.
7. Pray Again and Never Stop
Finally, dedicate it to the Lord. Commit your mission to Him and trust that He will guide you in the fulfillment of it. Do not trust on your own strength, but in all your ways acknowledge Him, and He will direct your paths (Prov. 3:5).
Since beginning the process of developing our family mission statement, it has provided such clarity and direction to our daily lives. We know what our purpose is and we our passionately working together to accomplish it. By God's strength, we want to be laborers in the extension of His Kingdom!
For further inspiration: The Benefits of Having A Family Mission Statement by Stephen Covey
God bless your efforts to live purposefully for His glory!