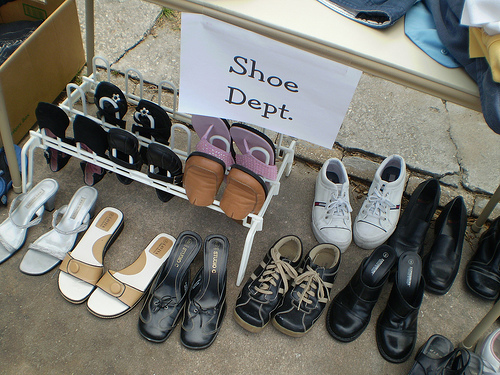 Photo Credit
Summer is a great time for visiting with friends, as well as tackling projects around your home. Combine the two, and invite your friends for a "Declutter Party!"
A "Declutter Party" is a wonderful opportunity to simplify your home by clearing out unnecessary items, as well as providing a frugal option for obtaining some needed things. (Plus having fun with friends at the same time!)
I have enjoyed participating in a few of these events over the years. In pursuit of wise stewardship, it is nice to be able to "recycle/reuse" items when possible.
In essence, a "Declutter Party" functions as a swap. You can bring/take home any number of items. Participants will "shop" through all the items for free. Any leftovers can be donated to charity.
Event Ideas-
Women's Clothing Swap

- Set up tables with spaces marked for the various sizes. Provide changing areas for trying on clothes. Make sure to invite women of different sizes; as guests bring too big/too small items, there will be enough for everyone. You can include shoes, purses, and accessories in this swap, too.
"Anything Goes"

-  A "garage sale style" event; neatly set out items in "categories."
Craft Supply Swap

- This is a great opportunity to simplify your sewing/craft cabinet, reevaluate your hobbies, and find some new creative inspiration for the kids. (Have a project that's been unfinished for the past 10 years? Let someone else have the joy of competing it!)
Planning Tips to Consider-
Guests: Is it just for women or will it be a family event?
Theme: You can have a specific focus for your items (such as a women's or children's clothing swap) or an "anything goes" garage-sale style event. Clearly communicate the swap guidelines in your invitation.
Focus: Do you want to highlight a charity or have a ministry emphasis? A clothing swap can feature modest wardrobe ideas or a devotional on modesty for young ladies. A crafty swap can make/sew items for local or international ministries (such as baby items).
In a swap with friends last year, I was able to pick up some wall shelves and more cute glass jars to use for my sewing storage! (I organize the supplies for my sewing business in attractive glass jars at my sewing area in our living room.)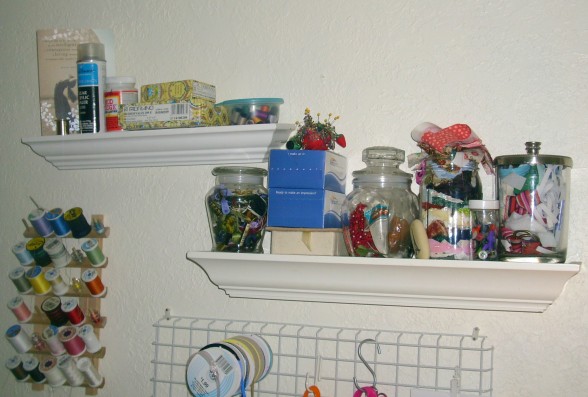 It was so nice to put these unused items (my friends' "clutter") to good use in blessing my family with a tidy home. At the same time, I cleared out a large bag full of unused items from our closets!
Have you participated in a similar swap? I'd love to hear if you have, or if you're planning one!