I am excited to begin gardening again this year on our back deck. Due to the limited space I have in our condo, I planted a container garden this last year. It worked out remarkably well and we enjoyed fresh tomatoes and green peppers and parsley throughout the summer. This year I am hoping to expand my garden a bit with a few more creative additions. Here are two ideas I have come across for small spaces:
1. Gutter gardening
My sister-in-law passed on this article about gutter gardening. I was impressed with the creativity of this idea. With the simple installation of a gutter along your siding, you can grow an abundance of fresh greens of all varieties (as they do not require deep soil).
2. Upside down hanging garden
I also am intrigued by the idea of growing tomatoes upside down in a hanging basket.  This would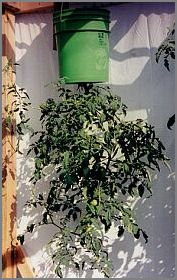 save alot of space. You can accomplish this very frugally by drilling holes in the bottom of a 5 gallon bucket or hanging planting basket. Hanging tomatoes upside down has many benefits according to this article, "First, the air can circulate better so the plants have almost no disease problems. Second, the fruit doesn't rot as quickly as that on the ground. And finally, some critters that eat tomatoes have trouble getting to the ripening fruit." You can also check out a Topsy Turvy for this purpose as well - an easy step by step kit for growing upside down plants.

3. Shoe Organizer Herb Garden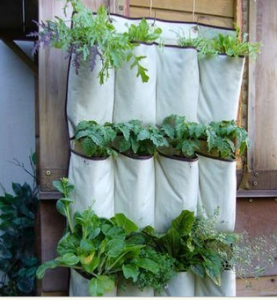 Check out this post about turning a shoe organizer into an herb garden! If you have a little hanging space on a balcony, railing, or wall, you could explore further with this simple addition.
I would love to hear if you have tried any of these methods? What was your results? Any tips to pass on to me?