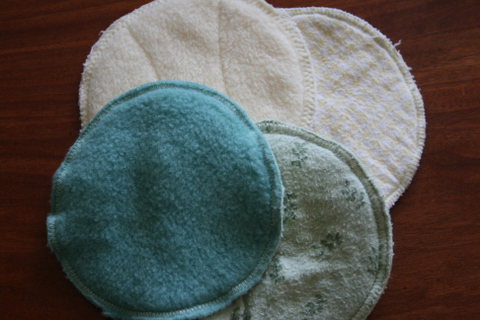 I had been at my wits end trying to find a good absorbent nursing pad that would not leak through the night. I hate waking up to a nice wet spot on my sheets. I admit…I have problems, but my son is sure happy with all that good milk! I tried three different styles to no avail. I was just about ready to go find another one when the thought crossed my mind to try to make my own! I wish I had started here in the first place. I made these wonderfully absorbent flannel and fleece nursing pads in just a short time with fabric I had on hand and did not have to spend another penny. Flannel is soft and comfortable and fleece is waterproof and will keep the moisture away from your clothes. Horrah!
Making your own nursing pads is simple, frugal and fun! Choosing cloth reusable pads is an excellent way to avoid the waste of disposables and another way to be a good steward of our environment. Cloth is so much more comfortable overall!
This was a fun and easy project and a great gift for an expectant mother as well. I made a few sets for a friend at the same time. Too fun!
Supplies:
Flannel (I used two standard receiving blankets. Everyone has an abundance of these lying around! One receiving blanket made 10 pads. You can also use an old flannel sheet. Make sure it is washed to avoid shrinkage or tearing.)
Fleece
CD or bowl with 4-6" diameter (5" is the standard size, but you can choose what works for you. I chose a small bowl that was 4 1/2 inches in diameter and it worked great!)
Instructions: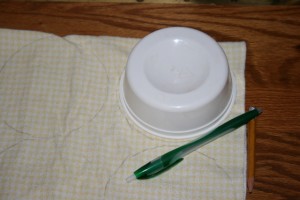 1. Take your bowl/CD and trace around it on your flannel and fleece fabrics. You will want 3 layers of flannel and 1 layer of fleece per pad. This quantity works especially well for nighttime use, but you can use just one or two layers of flannel for daytime pads if desired. I folded my receiving blanket in half to shorten the task, thus cutting two circles at a time. One reader suggested you can cut two of the layers of flannel in a smaller circle than the others to help prevent bulkiness and visibility around the edges of the pad. Place these smaller circles between the larger fleece and flannel circles.

2. Layer one piece of fleece with three layers of flannel on top and sew a straight stitch all around the outside of the pad about 1/8 inch from the edge. The flannel will be on the outside of the pad and you will wear it towards your skin and the fleece toward your clothing to prevent leaking.
3. After the straight stitch, sew a zig zag stitch around the edge. If you have a surger, that would be even better!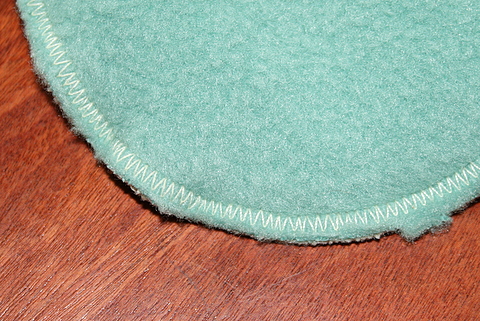 4. Trim all the excess around the edges by cutting as close to the seam as possible. This will prevent any excess fraying in the wash.
There you go! That's my frugal tip for the day! I made about 10-12 sets to get me through a week before washing and we are set! Usually one set for nighttime and one set for daytime wear works for me.
Visit Life as Mom for more frugal ideas.