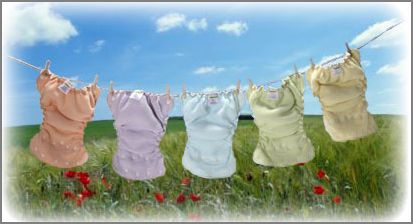 Welcome back for part 2 from Lauren discussing all the different options available for cloth diapering! To read part 1, visit here. Lauren blogs over at Cloth Diaper Diaries.

Now that we've covered some of the main reasons for using cloth, I'd like to break down the methods of cloth diapering.  I know that when I first began my research I was incredibly intimidated by the whole idea of everything about it: from making the initial purchase, to actually using and washing cloth diapers.  In fact, I was so intimidated and overwhelmed that I researched…and researched…and researched!  My husband finally said, "If you're going to do this, please just do it and stop spending so much time on the internet reading about it!"  I really hope that by the end of this post I've helped to simplify some of what's mystifying, and supplied you with the information and encouragement you need to make the switch yourself!
What is meant by "cloth diapering"?
To me, there are four ways to diaper a child in cloth: prefolds and covers, fitteds and covers, pockets, and all-in-ones.  I'm going to try to give a complete explanation of each style, but it won't be as thorough as the information you can find on my cloth blog or many other places online.  If you find you still have more questions after this post, please visit my blog and look in the "Quick-Click Table of Contents" on the right-hand side of the page.  If you don't see a tab for your question, just leave a comment or send me an email and ask – I'm always happy to help when I can!
Prefolds / Covers
Okay, so the first way is prefolds and covers.  This is probably what most people – including your mother and/or grandmother – think of when you start talking cloth diapers.  This is the simplest and definitely the least expensive way to cloth diaper.  When I say prefolds, I mean the thick, diaper service quality (DSQ) Chinese or Indian prefolds (CPF or IPF) that you purchase from a cloth diaper website or retailer, natural parenting store, or health supplier.  Some midwives and birthing centers also sell DSQ prefolds.  You can certainly use the Gerber birdseye prefolds available at Wal-Mart, but they are less absorbent and less durable.
You fold and fasten the prefold, either with a pin or Snappi, and then put a cover over it (Lindsay's addition: I found that you can actually use a prefold diaper without any pins or snappi's. The covers keep everything in just fine!).  You can see my two favorite folds plus the no-fold method here, and you can search online for more folding techniques.
(I would also group flats into this category, but I've never personally used them, so I don't have a lot of information to offer about them.)
Fitted Diapers / Covers
The second way to cloth diaper is using fitted diapers and covers.  A fitted diaper fits a child just like a disposable diaper, and fastens using either snaps or Velcro.  A fitted diaper may come sized (usually in weight ranges, just like sposies), or in one-size adjustable.  One-size diapers usually range from 7 to 35 pounds, but be forewarned that even if your newborn falls within those weight ranges, a one-size diaper will likely be way too bulky to use just at first.
Both prefolds and fitted diapers REQUIRE covers, but you don't needs as many covers as you have diapers.  A good general rule is to have 2 to 3 covers for every 10 to 12 diapers.  Covers can be wiped with a wet wipe and hung to air dry between uses; I usually only wash mine when they get poo on them or start to get stinky.  Covers are available with both snap and Velcro closures, and come mostly only sized; I've only ever seen one brand of one-size adjustable covers.
Pockets
The next way to diaper is pockets.  A pocket diaper consists of a waterproof outer layer (usually PUL, or poly-urethane laminate), and a stay-dry-feel inner layer (usually suedecloth or fleece) with a pocket in between that you stuff with absorbent material.  Because the outer layer is waterproof, pockets do not require a cover.  Most pocket diapers, when purchased new, will come with one or two inserts, which is just a microfiber absorbent pad of material.  Pockets, like fitteds, come sized and in one-size adjustable.  (Hint: the one-sizes cost the same as the sized ones!  If you go with pockets, get the one-size and you won't have to buy 3 separate size groups!) Pockets can be pre-stuffed for speedy diaper changes, and you can customize the absorbency depending on the child's needs.  This comes in handy with potty training!  And an empty pocket makes a great and comfortable swim diaper.
All-in-Ones
Finally, there are all-in-ones.  There are a few other diapers that also fall under this umbrella: all-in-twos, and all-in-one hybrids/pockets.  Basically, an all-in-one is just that!  Is consists of a waterproof outer layer, a comfortable layer next to your child's skin, and an absorbent inner layer sewn in between.  These go on and off just like a disposable diaper – no stuffing, folding, pinning, and no extra steps required.  All-in-ones come sized and one-size.
An all-in-two is an all-in-one that has an additional soaker that either snaps into the diaper, or is sewn at one end inside the diaper.  This is to add absorbency and ensure that the diaper still gets fully clean, without dramatically increasing drying time.  An all-in-one pocket is basically a pocket diaper that has a soaker sewn into the pocket, but still has room for additional stuffing.  You can use it as is, or insert more absorbent material if necessary.
For all diapers and covers, there are literally hundreds of different "name brands" and work-at-home-mom (WAHM) brand diapers.  They all fit slightly differently, so I don't recommend buying a two-dozen diaper stash of one single brand if you've never tried it before!  My children, for example, can't wear Swaddlebee pockets or Bumkin covers because they're cut very trim, and both of my babies have had tubby tummies and chubby little thighs.  Many diapers are available with both snap and Velcro closure; for what it's worth I say always take snaps if you can!  All Velcro will eventually wear out.  (I'm actually getting ready to replace all the Velcro on all of my diapers.)
So what's the best way?
This is NOT an easy question!  I use all four methods.  There are pros and cons to each way.  Prefolds are the least expensive, but there's a bit of a learning curve to the folding.  Fitteds are easy to use, but can be pricey, and I've had a difficult time getting enough additional absorbency (via inserts in between the diaper and the cover) to make this system last longer than a short daytime nap for my heavy wetting gal.  Pockets are easy if you pre-stuff them, but I've had some trouble with the fleece lining getting stinky.  All-in-ones are very user-friendly, but they're a bit more expensive, and they take much longer to dry.
I use prefolds and fitteds at home during the day, pockets for naps and nighttime, and keep just one or two all-in-ones in each size to toss in the diaper bag for unexpected diaper changes at the grocery store or park.  I love each way, and as I said, each system has its benefits and downfalls.  You just have to find what works for you and your baby!  Jillian's Drawers has a wonderful try-it-out program that allows you to test run cloth diapers and see what works best for you.  Click here to learn more about it.
Just the tip of the iceberg
There is a lot more to the world of cloth diapering than just why and how.  If you're new to all of this, I'm sure you have a million more questions – about diaper changes, what to do with soiled diapers until it's time to wash, how to wash, and what on earth all those abbreviations mean on the diaper boards!  I again humbly invite you over to my blog, although I'm not the authority by any stretch of the imagination.  I also enjoy The Diaper Jungle for helpful information.
A final word of Encouragement
Cloth diapering can seem intimidating and scary.  Like I said before, I researched for literally almost 2 months before finally plunging in and making my first purchase.  And I quickly discovered that cloth diapering, like many other things in life, is one of those things that you can't really understand fully until you do it for a week.  And I also discovered, much to my delight, that it was a breeze!  I loved it from the start.  In fact, I – and everyone I know who has made the switch – ends up saying, "I don't know what took me so long!  I wish I had switched a long time ago!" I actually looked into cloth diapering when I was expecting our first child, but I psyched myself out.  I was worried I wouldn't be able to handle it, or keep up, or that I wouldn't want to stick with it and then I would have spent all that money on cloth diapers.  But once I switched, the only thing I kept saying was, "I wish I had done this from the beginning!" It takes me not one second more during a diaper change than when I was using exclusively sposies, and my total hands-on laundry time for the week is probably less than two hours.
Then, too, you don't have to go exclusively cloth if it doesn't work for you.  Some parents have a hard time getting a sufficiently absorbent cloth diaper for nighttime use.  Our church nursery doesn't accept cloth diapers, so I always have a package of sposies on hand for church (and stomach bugs, yikes).   A few sposies a week aren't catastrophic, and using even some cloth is helping both your budget and your carbon footprint.
Of everyone I know who has made the switch from disposables to cloth, I only know one person who ultimately decided it just wasn't a fit for her family.  And if you try it out and decide, like my best friend, that it just isn't worth your sanity, then that's okay!  But please just let me encourage you to give it a shot.  You might be pleasantly surprised!
A few recommendations:
Lindsay's Favorites
Covers - Prorap diaper covers or Bummis Super Whisper Wraps
Pockets – Bum Genius one sized diapers (also, Fuzzi Bunz has just released a one size diaper that looks awesome! Check it out here.)
Newborn diapers – Kissaluvs fitted size 0 (I am finding these to be the best for our small Titus! They also offer larger sizes for bigger babies. We will be using the size 0 before using our Bum Genius one sized diapers.)
Prefolds - Unbleached Indian/Chinese prefolds (Cloth-eez Prefolds)
Detergent – Charlies Soap (this is an all natural safe soap that works beautifully for all cloth diapers and your regular clothes as well! Very reasonably priced as well!)
Cloth wipes - Unbleached flannel wipes
Doublers – Hemp/fleece doublers (these work beautifully for nighttime use or for heavy wetters. I place it directly against my daughter's bum and we don't have any problems with leaking or rashes from the extended time in the cloth). Another good source is BabyWorks.
Stain/odor remover – Bac-Out (I spray this directly on the diapers before putting them in my pail)
Wet bags – Wahmies
Diaper Pail liners – Bummis tote bag
Lauren's Favorites

Covers – Proraps and Thirsties
Pockets – Close tie between BumGenius and Happy Heiny, but HH ultimately wins because of fit (my son grew out of BG long before he hit 35 pounds, and still fits into HH at 43 lbs)
Newborn diaper – Kissaluvs fitted size 0
Fitted for other sizes – Thirsties or MonkeyBuns (a WAHM diaper)
Prefolds - Unbleached Chinese prefolds (most
retailers offer the same quality product, but I purchased mine from Nicki's Diapers and Green Mountain Diapers)
Nighttime Diaper – DryBees fleece nighttime diaper, except they use incredibly poor quality velcro; order some aplix and replace the manufacturer velcro, or have a sewing friend do it for you!
All-in-Ones – Thirsties Pocket all-in-ones
Detergent - Charlie's Soap
Stain and odor remover – lemon juice and sunshine! 

)
Cloth wipes – Old flannel receiving blankets and baby washclothes
Wet Bag - Wahmies or Planet Wise
Doublers -Microfiber towels that you can get in the "bag of rags" for $5 in the automotive section of WalMart and Kissaluvs hemp doublers
Sources for Cloth Diapering Supplies
Diaper Swappers – for all your cloth diaper questions, to buy used, and resale – a great forum!
For an excellent selection of diapering supplies, including all the recommended items above, I highly recommend Kelly's Closet. Excellent customer service and they reward you with points from each purchase you make towards future gift cards!
What diapering supplies do you have or recommend?

Diaper Pin – a great resource with tons of reviews for all cloth diapering products. This site has been a lifesaver! They also have a lot of articles to answer questions.