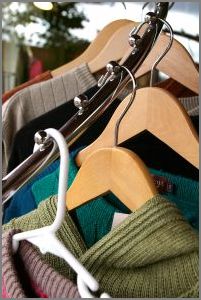 Welcome back for part 2 with further tips on Simplifying your Wardrobe! For part 1, visit here. In part 1, we discussed how to build a simple wardrobe through evaluating how much clothing you really need and how to build a selected color scheme. Now on to other ideas…above all, remember that the reason we should ultimately seek to simplify is that we might reserve more resources, time and energy for the Lord's use…in order that we might have more to give (read more about this purpose here)!
Select clothing that is timeless
Rather than following all the fashion trends that change with each season, I like to keep my wardrobe simple by choosing more timeless attire. I may choice one or two more fashionable items (because it is fun!) on an annual basis but they still remain in my color scheme. I love denim skirts and pants, and assortment of black and brown which never grow old!
Select clothing that is versatile
Choosing clothing that works for more than one occasion/event is also very helpful. I like to wear a variety of casual skirts that work well for both around the house, dinner or evening out, and at church. I have one or two fancier dresses for weddings and such, but the main collection of my wardrobe is appropriate for both casual and semi-formal events.
Set a clothing budget
We find it helpful to set a monthly clothing budget, which remains the same throughout the year. We may not use this at all and accumulate it for our typical twice a year shopping spree trip (normally around the birthdays or Christmas). Sticking to a limited amount of shopping is very helpful for preventing over accumulation of clothing. And with each new item, an older item is donated elsewhere. Currently, Karis is mainly requiring the use of this clothing budget as she grows.
Avoid the malls
Nordstrom Rack and Ross are great places to find new clothing at a very reasonable price without subjugating yourself to the mall, where you will be surrounded by the tempting call of recent fashion and higher prices! You can also find good used clothing at Goodwill or other used clothing stores, if you have the patience to dig through a lot of ugly clothing to find those treasures!
Limit the shoes & purses

The collection of shoes and purses is a pitfall for most ladies. My recommendation is to stick with two primary purses, one for winter and one for spring. Choice a dark purse (best options are black or brown) for winter so they go with everything, and a lighter purse for spring/summer (such as a tan, white, or basic color – also so it goes everything).
A smaller purse is easiest to deal with in preventing excess clutter and junk from accumulating in it. Keep the basics – your wallet, cell phone, money pouch, receipts, etc. I try to keep all my receipts stashed away in a small envelope in my purse, otherwise they seem to flood the whole purse between monthly balancing of the books.
If you have chosen a few color themes of which to build your wardrobe around (as discussed in part 1), you can also build your shoe and purse collection with those colors in mind. My sister from her study in the fashion industry recommends you match your purse and shoes and choose these based on your primary color or accent colors. You don't want to buy a yellow purse if you have nothing yellow in your wardrobe nor do you want to buy new accessories for every item! Choice a few that go with everything!
My shoe wardrobe is pretty simple. I have a selection of 3-4 pairs for winter and 3-4 pairs for summer. They are all black, white, or brown, so they go with everything in my wardrobe. If I wanted to get adventurous, I could add a pair of red or turquoise accessories which go with my chosen accent colors.
It works for me!
That brings me to the end of my simplifying ideas on this topic…but I would love to hear some of yours for simplifying the wardrobe!