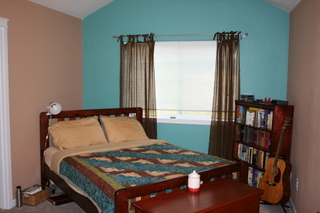 This post is a continuation of my simplifying tips series around the house. The more I think about it, this is more of a series on being able to organize in small spaces! As we live in a small condo, this has been my journey since the beginning of our marriage, as this is our first home! It actually makes things alot easier for me, because I am less tempted to buy stuff and consume because storage space is limited. Other than that, simplifying for us has been for the purpose of enabling us to be more generous for the futherance of the kingdom!
Here are just a few tips that I have found helpful for simplifying in our bedroom.
1. Night stands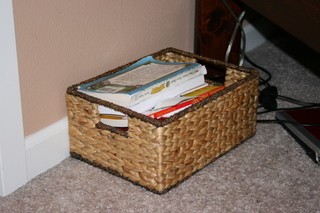 First off, we don't have room for night stands, as you can clearly see in our bedroom picture. We use wooden baskets to hold our Bibles, and any current books we are reading. The second reason I have sought to avoid them is that it forces me to keep my baskets clean and organized. With night stands, the drawers or shelves can often get overly cluttered with numerous books that have been forgotten months ago. Having a small basket forces me to just keep it filled with only the books I am currently working on.
2. Using the closet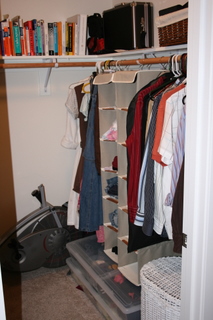 Due to the limited bedroom space, we have stored all our clothes in our closet, which keeps the bedroom more free of extra clutter as well. Away from the eyesight. The hanging shelves have worked wonderfully for us, and significantly cheaper than purchasing a dresser. We use them for all our undergarments, nighttime wear, t-shirts, pants, and socks. We hang the majority of our shirts to keep them free of wrinkles. In our closet we have one hanging shelf for each of us, Aaron is on the right with his shirts hanging beside them, and mine is the left with my hanging shirts, skirts and dresses hanging on the far left beside them. We also have a dirty laundry bin and in the far rear we store the exercise bike.
Having limited closet space has also forced us to limit our clothing purchases. If it hasn't been worn in six months to a year, it is donated to goodwill.
3. No storage under bed
Storage space under the bed can be ideal for small spaces…but I preferred a clean look under my bed. As we don't have a bed skirt, this has been particularly important. We store under the bed containers in our closet below our hanging clothes. These containers hold the opposite season clothes.
4. Using a chest for linen storage
At the end of our bed we have a beautiful hopechest that my father made for me prior to my marriage. Yes, it is a very special gift, for which I am extremely blessed. In this chest we store additional blankets and linens for our bed. This keeps them out of sight yet easily accessible. The challenge here is keeping the top free from clutter as this would be the collecting point as we carry things into our room.
My project this summer has been to do some simple decorating in our bedroom. I am in process of making a photo collage on our right wall. The other side of our bedroom, not seen in the first picture is actually my husband's office (as he works from home). Currently it is going through some major simplifying and organization, which we will have to share on another occasion.
Those are my simple tips for today! I would love to hear your thoughts on simplifying in the bedroom!
God bless your simplifying efforts!