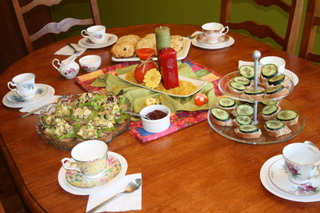 I have always loved tea parties! Growing up I collected all sorts of elegant tea cups, tea pots, and the like (from Goodwill, garage sales, gifts, etc). We hosted many a Mother's Day (to honor mother's in our church) and Christmas teas (neighborhood gatherings) growing up, and it was such a delight to bless other women in our home in this way. Continuing on in this tradition, I invited a few ladies over for a tea luncheon this past Saturday.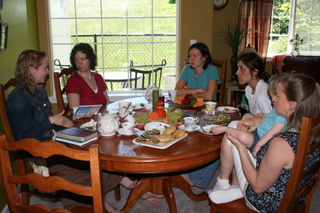 We had such a refreshing time of fellowship and encouragement together around the Lord. I invited everyone to come prepared to share how the Lord has been working in their lives. It could be insight from a book, or sermon, or simply whatever the Lord laid on their hearts. I was so greatly challenged as we discussed the importance of the Word and daily communion with the Lord to walk out our roles of wives and mothers.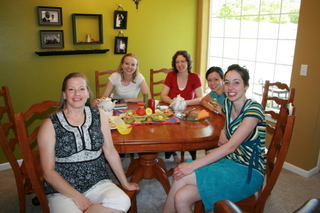 Why not host a little tea or simple luncheon this summer and encourage your sisters in the Lord? You can honor mothers in this way, or reach out to neighbor ladies as well. Draw your attention to the Lord and it will be very fruitful. Older woman, seek to encourage the younger woman (thanks Mama Edmonds for your presence and godly wisdom!). Let's seek to be purposeful in our plans this summer! (More encouragement on this topic lately from Girltalk).
Here's some recipes to get you inspired…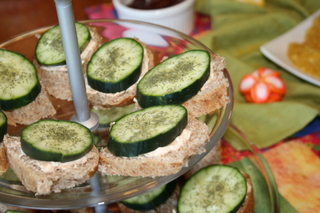 Cucumber Tea Sandwiches
1/2 (8 ounce) package cream cheese, softened
1/4 cup mayonnaise
1/2 (.7 ounce) package dry Italian salad dressing mix (I tried to use my own, but it works best for this special occasion to use a mix!)
1/2 pack of hot dog buns (3-4 buns), cut into 1 inch slices on an angle for fun
1 medium cucumbers, sliced
1 pinch dried dill weed
In a medium bowl, mix together the cream cheese, mayonnaise and Italian dressing mix. Refrigerate for at least 6 hours, or preferably overnight.

Spread the cream cheese blend onto slices of hot dog buns. Top with a cucumber slice, and sprinkle with dill. You can make as many or few as you like. the cream cheese mixture keeps for about a week in the refrigerator so you can make them over and over again!

Curried Chicken Sandwiches
These are wonderful for a tea of for everyday use as well!
2 cups cubed, cooked chicken
1 medium unpeeled red apple, chopped
3/4 cup dried cranberries
1/2 cup thinly sliced celery
1/4 cup chopped pecans, optional
2 tablespoons thinly sliced green onions
3/4 cup mayonnaise or plain yogurt
2 teaspoons lime juice
1/2 teaspoon curry powder
12 slices bread
Lettuce Leaves
In a bowl, combine the first six ingredients. Combine mayonnaise, lime juice and curry powder; add to chicken mixture and stir to coat. Cover and refrigerate until ready to serve. Cut each slice of bread in half to make a triangle shape. Top with lettuce and chicken salad.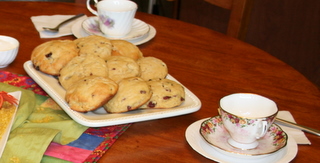 Orange Cranberry Scones
Delicious topped with whipping cream and jam or just by itself!
3 cups all-purpose flour (I used half whole wheat pastry)
1/2 cup white sugar (I used half rapadura)
5 teaspoons baking powder
1/2 teaspoon salt
1/2 cup butter
1 egg, beaten
3/4 cup orange juice
1/4 cup milk
1/2 cup dried cranberries
Preheat oven to 400 degrees F (200 degrees C). Lightly grease a baking sheet.

In a large bowl, combine flour, sugar, baking powder, and salt. Cut in butter. Mix the egg, orange juice and milk in a small bowl, and stir into flour mixture until moistened. Toss in craisins.


Turn dough out onto a lightly floured surface, and knead briefly. Roll dough out into a 1/2 inch thick round. Cut into 8 wedges or rounds with a large drinking glass, and place on the prepared baking sheet.

Bake 15 minutes in the preheated oven, or until golden brown.