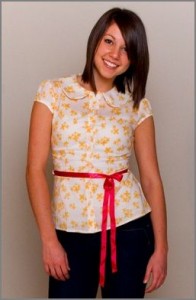 Don't you just love the feel of summer in the air? The warm breeze, clear blue skies, and flowers in bloom! But with the summer comes the appearance of a wide variety of clothes that may look light and keep you cool, but will they be the most appropriate to keep you modest and feminine?
The porn positive culture in which we live is constantly pushing immodesty as attractive; and therefore, we need to be constantly on our guard against succumbing to this temptation by in turn surrounding ourselves with the truth of the gospel.
I have been greatly challenged in the past through a few wonderful resources on this important topic that I wish to share with you.
Modesty Heart Checklist – a fabulous resource to use in evaluating your wardrobe!
The Look: Does God Really Care What I Wear?
by Nancy Leigh DeMoss — this little booklet is a wonderful tool to help you study God's Word on this topic. It's full of quotes, charts, and discussion questions.
Modesty on Your Wedding Day -I am so passionate about the importance of modesty on your wedding day, and this post is well worth the motivation to do so for the mothers of daughters and single ladies out there! Please read this!
Modesty Series & Discussion Questions by C.J. Mahaney- an excellent series of posts and list of questions for you to evaluate with the Lord, as a mother with daughters or individually.
Modesty: Your Heart's Battle – My sister, Christa, started a new blog recently. She re-posted a series she did on modesty from a conference she spoke at awhile back. Great stuff!