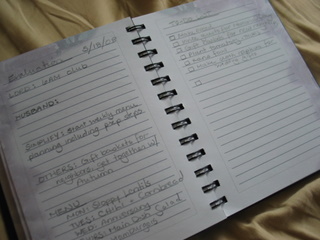 It's time for my weekly evaluation. You want to join me? I have pulled out my small planning notebook (which is nothing more than a simple spiral journal, that lays out on the counter throughout the week), my pencil, monthly menu plan, and I will now set to work. This is something I want to start sharing with you and encouraging you towards the same purpose, if you are feeling disorganized or overwhelmed, desiring simplicity!
Every Sunday night or Monday morning, as time and events permit, I spend a 1/2 hour or so in prayer and seeking wisdom and direction from the Lord for my week. My passion is to live purposefully, making sure I am staying focused on my priorities in this season. It is so easy to get distracted with other good things, but not necessarily the best!
This is one of the most important steps towards simplifying my life. Simplifying starts with planning…pray and plan.
My planning includes evaluation, to-do, and a menu plan with preparation steps!
A great resource: Shopping for Time: How to Do It All and Not Be Overwhelmed by Carolyn Mahaney and daughters. This book was one of the means of getting me inspired originally for planning and balancing my priorities whatever season of life. I highly recommend it!
EVALUATION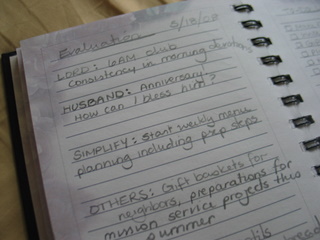 What are your priorities in this season of life? Make a list and weekly evaluate how you can do one thing to grow in that area this week.
My list:
-Relationship with the Lord/Growing in Godliness
-Loving my family - serving my husband
-Simplifying my life/Managing my household well - what is one thing that is out of balance or needs attention this week?
- Ministry to Others/Serving in the Church- how can seek to minister to one person this week? Whether it be a brother or sister in the body, or an unsaved neighbor, how can I shine my light and minister from the home or by going forth as a family to minister? How can I use my gifts to serve the body of Christ?
Your list may be different, depending upon the season of life, but each of us should have a list and seek to be growing and living purposefully for the Lord by evaluating and seeking to take simple steps.
1. How is my relationship with the Lord? Is there any area of sin that has not been dealt with? How can I grow this week?
This week I am reminded a fresh of the importance of rising early to spend with the Lord. I have learned the hard way…if I have not made myself happy in the Lord things are not happy for my household! My sister and I are keeping each other accountable and have started the 6:00AM club. Together we are rising early to seek the Lord's face. It may not work for every season, but now that my sweet little one has returned to her sleeping through the night routaine, I rejoice at the renewed strength to seek the Lord. Whatever your season, find the time and set a goal for yourself! Seek accountability if necessary. It works!
2. How can I serve my husband this week? For some of you this could be, how can I serve my father? Brothers? Keep it simple. One thing.
Wednesday is our anniversary! We are leaving Karis with the grandparents, and have planned a bike ride and picnic around a local lake, and then probably walking downtown Portland and have dinner. It will be a blessing to spend the day with my man!
3. What is one area I can simplify this week? The goal of simplifying is to maintain a peaceful and refreshing home and atmosphere. A place of rest and refreshment for husband and family. If I have too much stuff to manage so my life is a frenzy, I must evaluate what must go. This could be something that simply needs reorganization in my life.
This past week I went through Karis' clothes for the next season, determining what I needed for upcoming garage sale trips. I thought I needed a lot more summer clothes, but surprisingly enough, she had more than I had remembered receiving. Thank you Lord! I made a small list, mainly pajamas! Simplifying by organizing, knowing what you have and what you need, is very helpful.
This week I wanted to simplify by including preparation steps in my weekly menu planning for each day in order to stay more on top of soaking and dethawing food items for our meals. For example, my menu looks like this for Wednesday:
Wednesday
Preparation: Soak oats (for Thurs breakfast), cook hard boiled eggs (for lunch), remove refried beans & tortillas from freezer (for Thurs), soak homemade bread (to bake on Thurs)
These are things I do in the morning as I get going on breakfast and my morning routine. Just thinking ahead so I don't have a last minute mad rush and not have proper preparations made for meals. I still blow it sometimes, but this simplifying step is sending me in the right direction!
4. How can I seek to minister to one person this week? This may be inviting someone over for tea and fellowship, sending a note of encouragement to a friend, committing to praying for a need every day. Remember…just one thing.
This week…encourage a dear sister in the Lord, welcome our new neighbors into the neighborhood (more on this to come!)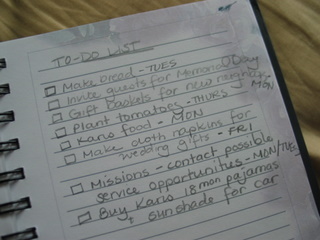 After my evaluation, I map out a simple to-do list for the week. I write a little check box by each item. After listing the items for the week, I try to divide the different tasks throughout the week, writing the day by it to which I hope to complete the task (Plant tomatoes – Thursday, Bake Bread – Tuesday, etc).and finally make out my weekly menu plan and preparation steps! My husband and I compare schedules to make sure we maintain communication with different events, discussing which to do and which to decline. Bathe it all in prayer and I am ready for the week! Commit it to the Lord, making sure my commitments and plans are in line with the priorities that are in my life right now.
Ps. 37:5
Commit your way to the LORD, Trust also in Him, and He will do it.
2 Cor. 13:5
"Test yourselves to see if you are in the faith; examine yourselves! Or do you not recognize this about yourselves, that Jesus Christ is in you unless indeed you fail the test?"