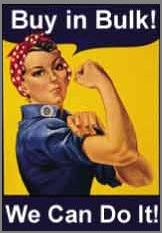 With a recent stop at my local Costco, I was pleasantly surprised to see how much organic products they are carrying now! I found tomato products (diced, tomato sauce, paste) with the best prices I have seen, they even top Azure Standard! For example, organic tomato sauce (12/15 oz. cans) for $5.95, Azure sells same quantity for $15.95!
Check out my updated list with all the organic products that our local store carries in case you have one nearby.
Bulk Guidelines
Buying in bulk has it's pros and cons, as discussed in where bulk buying goes wrong.
First, don't buy what you don't normally eat or would use. It might be a great deal, but if it is not a standard purchase or a staple item, don't buy it. Don't be tempted by organic pop tarts, please!
Secondly, limit your visits to these bulk warehouses and keep a budget! It adds up fast! I make a monthly stop at Costco and have a set amount to spend. Bulk buying is something to budget in because you may find a deal at one time that you aren't prepared for if you haven't set some aside specifically for bulk purchases.
Lastly, my solution with making sure bulk items are not used up too quickly (because we have a natural tendency to think because there is more, I can use more!) is to date them. I put the date they were purchased and then the estimated time it is required to last before restocking (based on previous wise usage).
For example, I have decided that one 1/2 gallon of coconut oil should last for about three months, so I wrote "mid-April-June" on the container, meaning it was purchased in the middle of April and must last through June. Or my large container of detergent should last 3 months as well, so I marked March-May. This has been extremely helpful and assists me in stretching all my bulk purchases to get there full value! I keep an eye on it…only use 1/3 each month!
Bulk buying can definitely save you money, but only if it is done wisely!