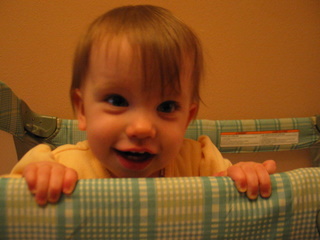 Picture of Karis from the weekend showing off her new trick of being able to pull herself up!
We had a rather full weekend at our home, so I will be delaying my post on the 4th chapter of the True Woman for tomorrow, Tuesday. It seems that the discussion is just getting started on chapter 3 anyway.
It was such a lovely weekend here in Vancouver, WA! Couldn't help but get out there and enjoy the weather…although I had a fierce attack of allergies! Ahh! That lovely watery, itchy eyes, runny nose attack!
So I got some of that spring cleaning motivation this past weekend. The one area of my house that I felt was really calling my name was our garage. It is a small one car garage, but it is still amazing how disorganized it can get. Well, my husband and I set our minds to it on Saturday, purchased an extra storage rack (love those sturdy metal ones from Costco!), and set to work.
An hour later, old tires were recycled (better to recycle that add to the trash), miscellaneous items that had been sitting for the past year or so were taken to goodwill (trying our best not to trash something that may be useful for someone else), and all of our shelving was organized. It is amazing how much you can get done when you set your mind to it! Garage was swept clean, and organized. Horray! I have a couple shelves now just for my bulk food purchases, that were formally miscellaneously strewn around the whole garage. It feels so good to get organized, doesn't it?
Sunday was filled with a mission focus at our church. As Aaron & I lead the mission team/coordinators at our church we were busy. It is such a joy and honor to serve in mobilizing others to the Great Commission wherever you are at. The festivities included a guest presentation by David Witt with Voice of the Martyrs, prayer time, a cultural shared meal, and an international game from India.
So overall, today is more of my day of rest!
Any spring cleaning going on around your home?
Here is a wonderful Spring Clean Stratagy Guide from Wise Woman Builds Her House that I found helpful. I am going to try to get some more cleaning done today:
Spring Cleaning Strategy
1. Count how many rooms you have in your home. This will be how many days you will devote to spring cleaning. You do one room a day.
2. Go room to room with a list and write down what needs to get done. (Example: wash curtains, touch up paint, organization, deep clean closet) This is your master list, you don't really need it if you can remember it all but I like to see everything on paper.
3. Follow your list. Whatever doesn't get done plan for later—-at least you've got alot done in your spring cleaning week, more than what you would have without a plan. Knowing I only have one day to work on something makes me work quicker and more efficiently especially since I am planning off the list. Pat yourself on the back, kick up your feet and enjoy the contentment that comes from beautifying your home.
Here is a final quote she shares:
"Preparing our homes and beautifying it is important work and a timeless art. It requires alot of loving sacrifice and work but so satisfying when the entire family can enjoy the fruit of it all."
Indeed true!
Any one have any natural remedies for hay fever, spring allergies? I would love to hear them!
P.S. You will notice that we rearranged our site just slightly this weekend too. We posted the article links that used to be on the side to the top navigation (about, contact, etc)! Hope this simplifies things a little.