Just to show you that I am not a perfect cook, here are a few of my flops of the week!
1. Homemade Mayonnaise really does not work in my Ranch Dressing recipe! It tasted like spiced up oil! Did not suit our fancies for a nice dip for vegi's. Ug…
2. I have been experimenting with making tortillas lately. The first batch resulted in very hard, amazingly anti-pliable tortillas! More like frizby disks than anything! They wouldn't even break if you threw them against the wall. The beginning of the second batch resulted in a crumbled mess (see picture). But perseverance is the key! I think I have tasted a hint of success this weekend (recipe to come tomorrow).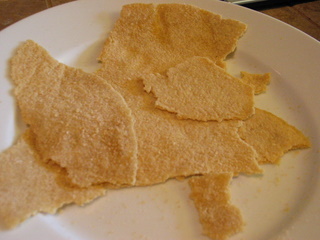 There you have it…Try anything once! If it doesn't work, try again! I may sound positive right now, but I sure wasn't when these mishaps came upon me…ask my hubby!