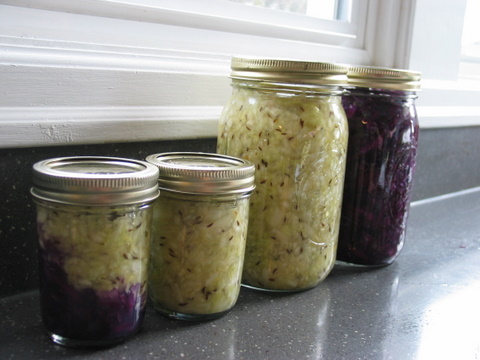 This is the season for cabbage! And cabbage gallore! I have been receiving a large head of cabbage each week in my produce bin, and thus the need to be used. My sister-in-law Autumn suggested we get together and make sauerkraut yesterday. I honestly would not have thought of the idea! Thanks dear SIL! It is oh so easy!
Sauerkraut
Makes 1 quart
1 medium cabbage, cored and shredded
1 Tbls. caraway seeds
1 Tbls. sea salt
4 Tlbs whey (if not available, use an additional 1 Tbls salt)
Autumn used a purple cabbage, and I used a regular green cabbage. Start by coring and chopping the cabbage.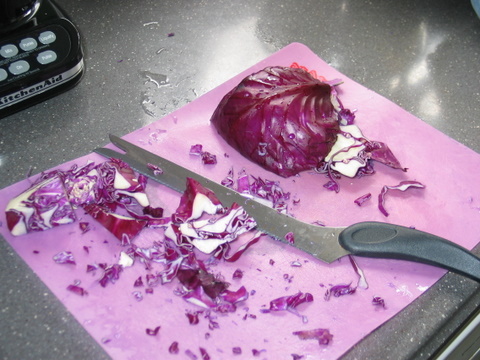 In a bowl, mix cabbage with caraway seeds, sea salt and whey (if available). We did not have whey, so we used the additional salt. Pound with a wooden pounder or a meat hammer for about 10 minutes to release juices. We also used the end of a wooden spoon for pounding, it just took a little longer, but worked wonderfully. Place in a quart-sized, wide-mouth mason jar and press down firmly with a pounder until juices come to the top of the cabbage. The top of the cabbage should be at least 1 inch below the top of the jar. Cover tightly and keep at room temperature for about 3 days before transferring to cold storage. The sauerkraut may be eaten immediately, but it improves with age.
This is a fun project to do with kids! Here is my sweet niece, Alita, pounding away, helping mommy and auntie!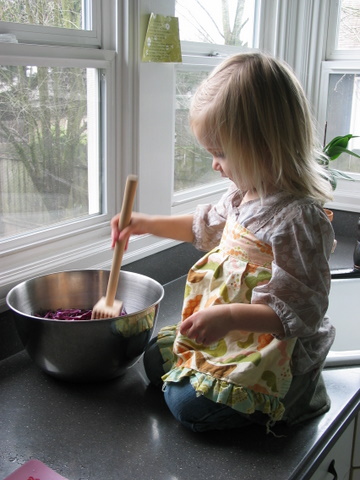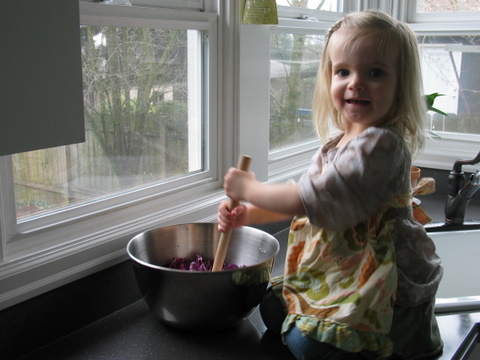 Autumn & Alita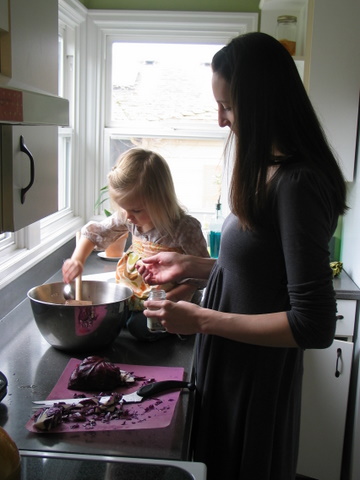 Even Karis was helping! Not quite. She looks a tad bit bored…;)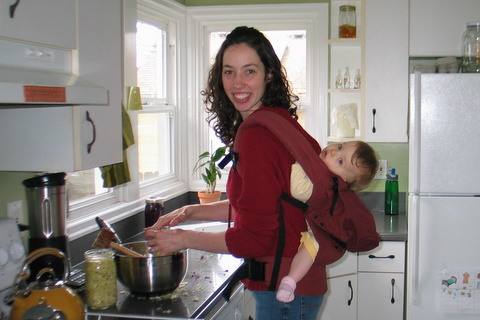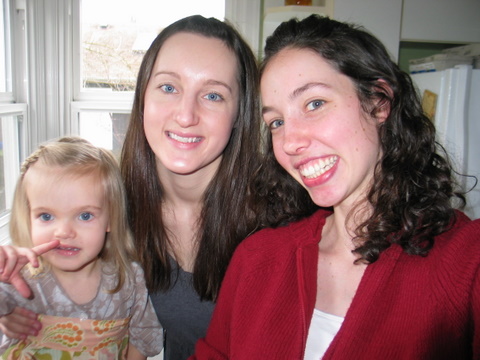 We'll have to let you know how it turns out in a few days, but for now, it is fermenting nicely on the counter. Our next cooking project together is bagels!
You'll have to visit Wild Fermentation to understand the value and benefit of fermenting fruits and vegetables. Autumn & I couldn't quite understand it all. Something about the "transformative power of microscopic bacteria and fungi", that helps you fight disease. I am definitely not so much into their philosophy that this helps us "become one with the natural world", so please read with discernment. They also offer another recipe that Kimi tried and preferred to the above Nourishing Traditions recipe.