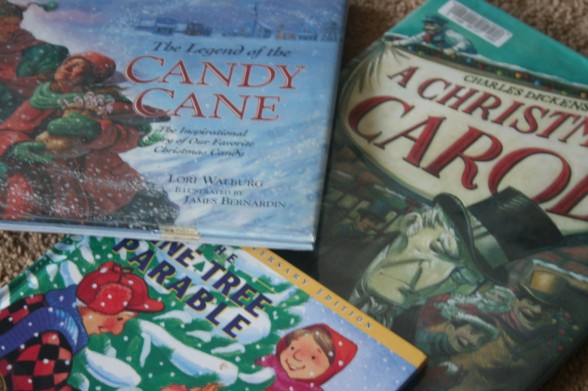 A special way we enjoy keeping our focus on the true meaning of Christmas is to stock up on a collection of fun meaningful Christmas storybooks. Each day we love to snuggle up with a book or two and focus our hearts again on the richness and joy of the season. As we continue to read and share with our children, the more they grow to understand the beauty of Christ's birth. Each year we like to purchase a book or two to add to our Christmas storybook collection that we can draw out each year. This year we wrapped them up and including this special unveiling among our advent calendar activities.
Here are some of our favorite Christmas reads for the season:
The Legend of the Christmas Tree by Rick Osborne
The Legend of the Candy Cane by Lori Walburg
The Legend of the Christmas Stocking by Rick Osborne
The Story of St. Nicholas: More than Reindeer and A Red Suit by Voice of the Martyrs
The Three Gifts of Christmas by Jennie Bishop
The Tale of Three Trees by Angela Hunt
The Christmas Miracle of Jonathan Toomey by Susan Wojciechowski
The Pine Tree Parable by Liz Curtis Higgs
The Gift of the Magi by O Henry
The Christmas Carol by Charles Dickens (adapted picture book version)
The Candle In the Window by Grace Johnson
Jacob's Gift by Max Lucado
One Wintry Night by Ruth Graham Belle
Christmas Carols for Kids Hearts by Sergio Martinez
Josie's Gift by Kathleen Bostrom
We Believe in Christmas by Karen Kingsbury
The Indescribable Gift by Richard Exathlete
Song of the Stars by Sally Lloyd Jones (author of our favorite Jesus Storybook bible has created a fabulous story of the birth of Jesus)
The Town that Forgot about Christmas by Susan K. Leigh
What Star is This? By Joseph Slate
Want to add your favorites to the list?
Why not stop with me, pick up a book and read to your little ones today. It's the best foundation for their education.