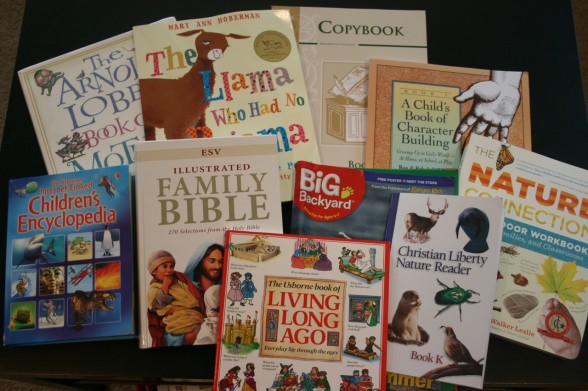 I am so excited to officially begin Kindergarten this year at our home with my sweet daughter, Karis, who is now 5 years old. After much prayer, I have made some decisions as to how we will approach this new year. My foremost goal is that my children would love to learn and that our home environment would be a place of joyful learning in all areas of life – from nature play to baking in the kitchen to doing our daily chores. I am passionate that my children would have hearts to know and love the Lord and desire to serve him all the days of their life, so character study and Scripture studies are high on the priority list. But I also desire that these beginning years would be full of good memory work in history, language, poetry, and Scripture memory. These are the years when they can memorize like crazy and retain wonderful truths and facts that can be later drawn out and discussed and applied. In this manner, I am adopting many concepts of classical education in our home (chronological history, memory work, etc) but also seeking to balance it with Charlotte Mason's encouragement to keep learning fun and simple with a focus on nature, music, poetry, narration, and art.
Phonics – My first goal this year is to get my daughter launched in reading. We have started a few unsuccessful times to begin various Phonics programs this last year, but I soon realized it wasn't worth it to push it too hard until she was more ready. So, this year we are going to start afresh. I am going to use Teach Your Child to Read in 100 Easy Lessons and Bob Books.
Memory Work – We will be memorizing one short poem each month, a passage of Scripture, importance facts (address, months of the year, etc), and Westminister Shorter Catechism phrases, along with reciting passages of Scripture before bedtime each night. Through repetition and simply reading these things to the kids, they can pick it up so fast. We recently memorized Psalms 23 simply by reading it every night before bed. It took 2 weeks and they had it down. Since we appreciate the approach of Classical Conversations, but have decided not to participate quite yet, we bought the Cycle 1 companion CD with all the memory work set to music. We will listen to this each week and try to memorize along the schedule.
Here is a free download of our Kindergarten memory work for this year (including catechism phrases, verses, basic personal facts and poems).
Bible & Character – We are currently using the ESV Illustrated Bible for our devotions before we start school each morning. This Bible takes specific portions of Scripture directly from the Bible with gorgeous illustrations. It is an awesome way to transition from storybooks to the full Bible. We love to listen to the dramatized Bible on CD while we travel around. A great way to plant the truth in their hearts through simple listening. We will also read the short stories about character qualities with A Child's Book of Character Building.
History & Geography - We have returned to using the Sonlight Core A Kindergarten program this year. I cannot say enough about how much I love their materials. I love how learning is based in real books. I love the selection of books and the simplicity of having all the lessons mapped out for you. I found most of the books used through Exodus books or Amazon, in order to make it more doable with our budget, but I highly recommend their curriculum packages! Exodus Books is a wonderful local homeschool store that also sells online and they offer tons of used and new curriculum at great prices. We have chosen to just stick with the core curriculum and read-alouds.
We started the Sonlight Core A program about a month ago, and my kids love it (yes, my 3 year old loves sitting in with us too for most of it)! They are always begging for more! I love the Internet Linked Children's Encylopedia included in this core, because it sends you to wonderful exploratory websites that include additional videos, games, and 3-D tours of different places around the world. I love how Sonlight includes quality poetry, narration practice with discussion questions, quality book choices (we just finished My Father's Dragon trilogy – so fun!), and freedom to do whatever fits best for your family. We'll also be reading the Story of the World Volume 1: Ancient Times by Susan Wise Bauer as a family during our read-aloud time on a couple evenings each week.
Science – My vision for science is to be out in nature and enjoying the beauty and wonder of creation with my kids especially during these elementary years. I want them to treasure being outdoors and getting a bigger view of the powerful God we serve as we explore together. I want to spend quality time out in nature with scavenger hunts and nature walks. We plan to use Nature Connection: An Outdoor Workbook for Kids, Families & Classrooms and create a Nature Journal for each of the kids with copies from this book in which we could draw various new observations from nature as well as record made up stories of things we find (I'll be recording the stories that Karis tells me until she becomes more proficient in writing). This book has tons of ideas for exploring clouds, weather patterns, nature walks, and so much more. This will last many years as some of the activities are a bit more advanced. We will take the camera and let the kids take photos of things they find as well.
I will also be supplementing with the Christian Liberty Press Nature Reader K (an adorable little book that goes through the alphabet and shares extensively on different animals – A is for Alligator, etc), some of the Moody Science videos, Planet Earth, and a subscription to Big Backyard (an adorable nature magazine for kids 4-8, an awesome birthday gift!), and Nature Friend (a Christ centered creation based magazine). We will just do one of these activities each day, either nature journal, read, watch a video, or check out youtube videos about different animals we observe or read about.
Music – Since my former piano teaching days, I have been eager to begin lessons with my little ones. We will be doing some beginning piano lessons with Karis at home with Music for Little Mozarts curriculum. This is a very simple curriculum that any mommy could teach their kiddos with. I used it extensively with young children and had great success. We also use and love the Classical Kids CD series (which provide fun listening with classical music set in a story) and The Story of the Orchestra (take you on a journey through the instruments in an orchestra).
Copywork – We will be using Copywork I for our handwriting curriculum. I love how this resources uses Scripture as its basis, but also gives freedom to draw pictures and use the imagination.
Math – I'm super excited to read the fabulous reviews on the hands on Montessori based math called RightStart Math. It uses an abacus and tons of math games to make learning fun. We are starting with the Level A set. Ive never been excited about math until I read how this program works and how reviewers said their kids love math with this program. Really? I'm on it!
Since I also believe in establishing good critical thinking and logic skills, we are using Mind Benders Book 1 for a practical workbook on the subject. We also plan to get the game Zoologic for practical fun at this level.
Finally, we are always reading lots of good books! We use recommended list from the 1000 Classic Books list and pick up 10 or so titles every few weeks from our local library.
We will be maintaining a simple schedule that will be completely flexible and adjust as necessary as the year moves on. You can view what our schedule will look like this year here. I am excited to continue the journey of encouraging a love for learning and all the joys that come with the beauty of learning together with my little ones!
This post includes affiliate links, which means we receive a small percentage of each purchase made through our links. We only recommend products that we use and love and we appreciate your support.