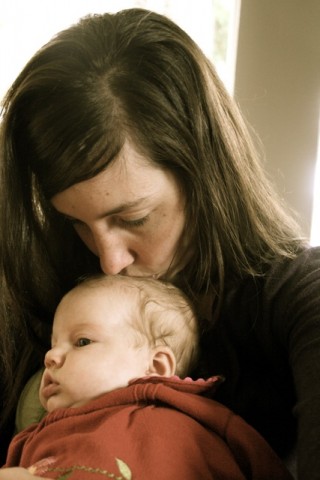 There have been repeated times in the past few years where I have struggled with the "what if's" of my past. What if I had continued to pursue a college degree and not gotten married so early? What if we had waited longer to have children? What if I pursued an active career? I see other couples waiting five years to have children and feel a bit of discontentment creep up in my heart because I wonder what it would have been like to have such freedom. I'll be honest and confess that it has been a great struggle in my heart. This job of motherhood is so hard. It's hard to get up and care for little ones when I am lacking serious sleep. It's hard to train them with grace and patience. It's hard to embrace their neediness with joy.
The Lord has been gently working on my heart as I am currently mediating through Ephesians 5:15-17, "Look carefully then how you walk, not as unwise but as wise, making the best use of the time, because the days are evil. Therefore do not be foolish, but understand what the will of the Lord is."
What does God have for you? I've found that what God desires me to embrace is often right in front of me. It's not way out there. It's these little hands and feet He has called me to nurture. It's this strong man that He has called me to support, cheer on, and follow. The will of the Lord is for me is to delight in, to embrace where He has me right now. When I doubt that, I am walking foolishly. I'm mocking his plan. He has called me to be a wife, mother, and homemaker. It may not have come in my own timing, but it certainly has been His timing (Proverbs 16:9).
THIS, right HERE…is what God has assigned for me. The fullness of my womanhood is experienced in embracing these tasks with intentionality. We truly only have one life to live, it will soon be past. Only what is done for Christ will last. To walk any other way is to walk blindly, foolishly.
I've experienced such fear, doubt, and lack of value because I've focused on what this culture exalts, rather than what God truly values. What did Jesus embrace? Jesus welcome the little children (Luke 18:16). He chose the humble, the weak, and gave them beauty and value (even when his culture looked down upon them and tried to send them away).
THIS WORK…this is heavenly work. He said they were what the Kingdom was made up of. He embraced the weak…not the intelligent, educated, and religious people. Jesus said to love the little children is valuable. It is beautiful. It is His work. Even with all it's messes and challenges. He never promised it would be easy, but He did promise that this is the work of the Kingdom, and what we do to the least of these, we do for Him (Matthew 25:40). If this is the season He has called you to, then being faithful where you are is the best use of your time.

What you do sisters in your homes has beauty and value. It was what Jesus exalted. Don't waste another moment thinking about the past, or what you've given up. It's a waste of the precious moment you have in front of you.