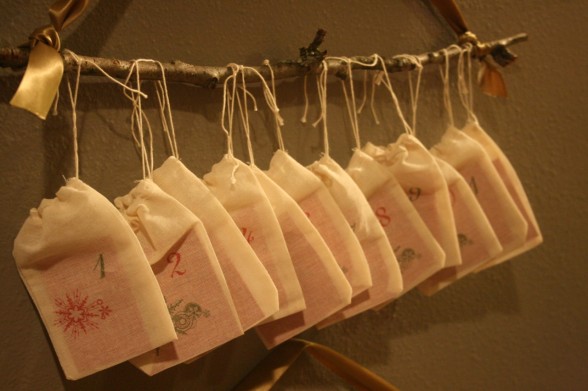 This year we are beginning to use an Advent Calendar for creating fun, meaningful, creative, and gift giving activities through the Advent season. I have seen a ton of amazing Advent Calendars across the web, but knew I had to put together something very simple in order for this to be manageable. I purchased this set of muslin stamped bags to fill with our daily activities, and hung then on a simple branch from our backyard with a ribbon to hang it on our wall. Each day we will add a piece to our children's Nativity Set as well as we await the arrival of Baby Jesus. I also have purchased a few new Christmas books to be opened throughout the month to add to our collection.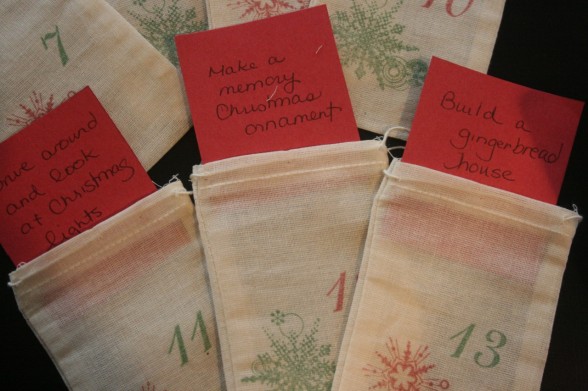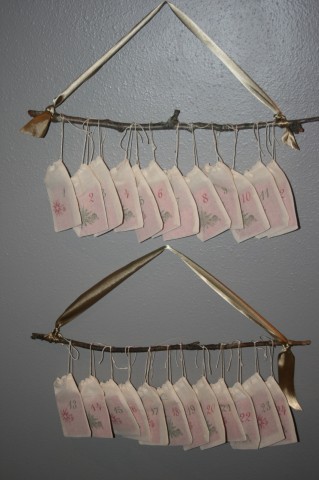 Here is our list of activities for this year:
Buy a new Christmas album and listen to it
Open and read a Christmas story book
Go to the mountain and find a Christmas tree
Make pumpkin bread and give to the neighbors
Sing Christmas carols around the tree
Make a fun Christmas ornament
Open and read a Christmas story book (Legend of the Christmas Stocking, Legend of the Christmas Tree, etc)
Wrap Christmas Gifts for our stockings
Make a popcorn/cranberry garland
Make Candy Cane Playdough – give some to neighbor friends
Make reindeer candy canes
Dance to Christmas music
Make a memory Christmas ornament – record memories from the year
Color a Christmas picture
Make coconut hot chocolate and stir with candy canes
Watch a Christmas movie and eat white chocolate peppermint popcorn
Build a Gingerbread house
Drive around and look for Christmas lights
Go visit Santa Claus
Make a Jesus Gift basket and deliver to a family in need
Have a camp out in front of the Christmas tree
Call grandma and grandpa and sing a Christmas song
Sing Christmas carols at senior citizens home
Watch The Nativity Story about the birth of Baby Jesus
Make a birthday cake for Jesus.
Merry Christmas!!!
Another idea we'd like to do throughout the month as we receive various Christmas cards from family and friends is to read/look at the cards together and pray for the families in turn.