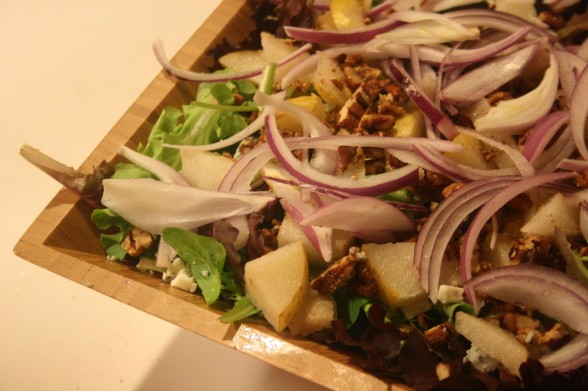 We made this pear salad for our Thanksgiving feast and it has become our new absolute favorite salad! It is so flavorful and delicious, balancing sweet and savory. I seriously could eat this whole salad at once!

Just had to pass on the recipe for your own enjoyment. You can make it lovely and festive with dried cranberries and avocado as well.
Ingredients:

1 bag (10 oz) fresh salad greens, or 1 head spinach
1 red onion, thinly sliced
1-2 pears, thinly sliced or cubed
1/2 cup bleu cheese, crumbled
1/2 cup candied pecans or walnuts (make your own here)
1 avocado, cubed (optional)
1/4 cup dried cranberries (optional)
Dressing:
1/4 cup maple syrup or honey (preferably raw)
1/3 cup apple cider vinegar (preferably raw)
1/4 cup olive oil (preferably cold pressed)
1/3 cup mayonaise
3/4 teaspoon sea salt
1/4 teaspoon ground pepper

Directions:

1. Layer the mixed greens, onion, pears, bleu cheese, pecans. Add avocado or dried cranberries as desired.
2. Blend the dressing ingredients together in a blender. Pour over the salad just before serving.