Looking for some basic ideas for hands on learning fun for your littlest ones? Or maybe some simple activities that your toddler could do alone while you work with an older child? I have collected a bunch of different simple activities that I could do together with my toddler each day in between spending learning time with my older daughter. Many of these activities can be done independently. I have compiled them in a pdf document for your own use or to simply help give you some inspiration. Many times my four year old wants to join in the fun too! It provides such a fun springboard for focused quality time with my toddler which he enjoys immensely. There are approximately 25 different activities that can be sprinkled throughout the month.
I wrote each activity on an  individual 3 x 5 card. Bind index cards together with a simple hole punch and string for safe keeping and collect all your supplies and store in a basket for easy access all in one place. This way we could easily access an idea to do each day without running around the house trying to find the supplies.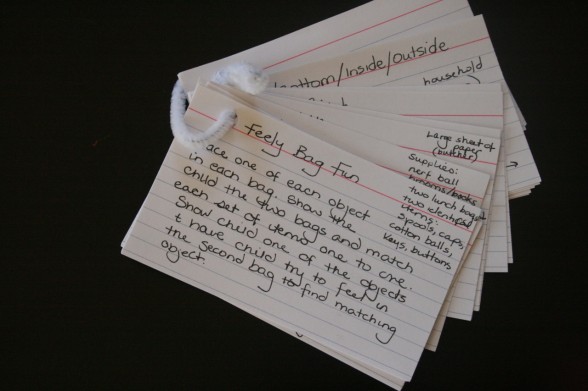 These 25 activities can easily be rotated to complete on a monthly basis to keep reinforcing and building skills.  Let your child choose the activity if desired and play together. The document includes a master supply list, specific activities with the supplies needed for each activity, additional hands on learning toys that we recommend, and a list of fun songs to sing with your toddler.
Download Toddler Learning Activities document here.
Have fun!