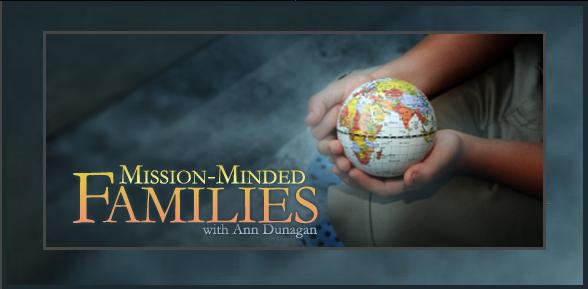 by monthly contributor, Ann Dunagan, of Harvest Ministry

This month marks the beginning of our family's 21st year of homeschooling. It's because of God's grace that we've been in this adventure for over two decades; and it's only by God's grace that I can confidently say, "We're still in it for the long-haul!"
On this theme, Lindsay had a few questions:
---
Q. LINDSAY @ PASSIONATE HOMEMAKING:  What was your original vision and goal for choosing to homeschool your children, and how have you kept that vision burning for over 20 years?
A. ANN @ MISSION-MINDED FAMILIES:  I became intrigued with homeschooling during college, as I was studying Elementary Education. During this time, as Jon and I were also preparing for marriage, I read a book called The Way Home, by Mary Pride, which challenged me — big-time — about God's purposes for homemaking, motherhood, and home education. As I completed my student teaching, I observed how a student who had been absent (for even 2-3 weeks) could quickly "catch-up" with the rest of the class with only a few days of 1-on-1 tutoring, causing me to question the time-effectiveness of a typical classroom. Later, as newlyweds, Jon and I led several youth mission trips. On these teams, we observed a huge contrast between the peer-orientation (and worldliness) of many public (and even Christian-) school kids, compared to the parent-orientation (and spiritual depth) of many homeschooled kids. Sometimes, the homeschooled parent-and-teen similarities were so strong, it was funny; but it showed us homeschooling's discipleship potential.
For our family, it's God's call.
As for long-term vision, "Whenever God CALLS, He gives grace to COMPLETE." I love the song, "His grace is enough . . . " and the hymn, "Though none go with me, still I will follow . . . "
---
Q. LINDSAY: What have been some of your biggest homeschooling challenges? And likewise, some of your greatest delights?
A. ANN @ Mission-Minded Families: The decision to homeschool (especially through high school) has probably been the most "difficult" commitment of our parenting. It's a seemingly unending job, with an ever-raising bar-of-expectation. As for challenges, I've dealt with condemnation, failure, loneliness, inadequacies, isolation, boredom, and outright fear. Yet this commitment has probably made our parenting "easier" than any other decision, and it has probably reaped the most fruitfulness –in terms of spiritual character, self-discipline, and vision for life. Similar to consistent training on a high-elevation mountain; our daily climbs are tough; but when we're down on ground-level, we're prepared for the pressure.
When our oldest son entered high school, I didn't want to "ruin" him for life, but God encouraged me to simply continue on His path for us. Ironically, my hardest homeschooling hurdle probably came when this son graduated from university. He finished well; but at the time, our youngest was only beginning first grade. It felt like I had finished a difficult marathon; but as I crossed the finish-line, the starter-gun was going off again, and I had to immediately start over. As I looked at our littlest guy, I thought about all those tough subjects, and college scholarships . . . and I didn't know if I could continue.
Right at that time, a friend (who's oldest was in kindergarten) asked for advice about homeschooling. "Teaching a little guy isn't hard!" I told her. "Just snuggle-up on the couch, read story books, and have him color pictures! Teach one letter a week, and let him help you in the kitchen. You can do it!"
After she left, I felt the Lord speak to my heart, saying, "Why did you make homeschooling so easy for her, and yet so hard on yourself?" I realized God would continue to help me, day-by-day, with His grace.
As for delights, a few photos share my highlights:
---
Q. LINDSAY: What encouragement can you offer some weary moms beginning a new year?
A. ANN: In summary: rely on God's grace (here's an encouraging SUPER-MOM vs. ABIDING-MOM chart) And if you're feeling weary or out-of-FOCUS, this 5-video FOCUS series (3-4 minutes each) might help.
---
Q. LINDSAY: How have you practically incorporated a heart for world missions into your homeschooling environment?
A. ANN: Just as our biblical worldview influences every area of life, our missions-perspective "flavors" every aspect of parenting. For us, homeschooling provides flexibility for family travel, kingdom-focus for history and geography, and eternal purpose for diligence. As for practical ideas, here are a few mission-minded resources (mostly FREE):