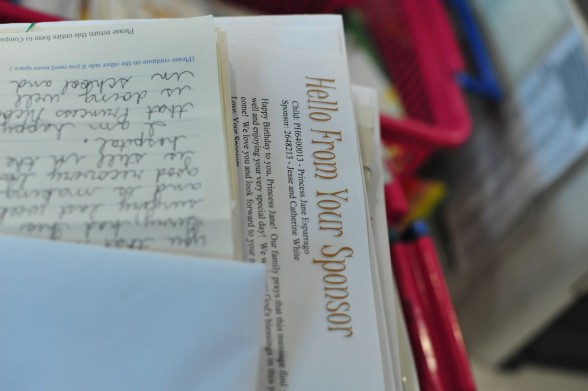 Who would imagine the power of a written letter? When I was preparing to move a few months back, I remember digging out my memory box. I uncovered all the letters from my childhood received from my father, mother, and friends. They were so special to me. I had stored them all in a manila folder for years. I had kept these cards for a reason. Why? Here is a glimpse into their contents:
"I'm so proud of you."
"I love to see how you are growing in virtue."
"Thank you for being so reliable. We count on you. You are a huge help to our family."
Such sweet encouragement that I am so loved. They inspire me to this day.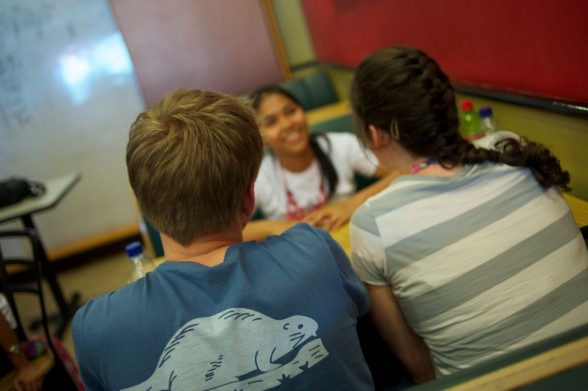 On Day 4 in the Philippines, Mrya sits across from us at the lunch table, a sweet young lady of 19, a member of the Leadership Development Program of Compassion International, and shares about her greatest struggle:
"My struggle is that my sponsor is not replying on my letters. It's really hard. I want to know them more and more. I want to share our journey and what happens in our lives."
Her face aches with longing. She wants to know about her sponsored family. She wants to hear about their lives, their dreams, their home, their family. Myra graduated from the Child Sponsorship Program and was selected to be in the Leadership Development Program, which is in an aggressive, advanced academic, and leadership training course. She has overcome incredible odds and needs the support and encouragement to thrive in this challenging stage.

Out of 57,000 sponsored children in the Philippines, only 7,000 receive a letter from their sponsor in a month's time.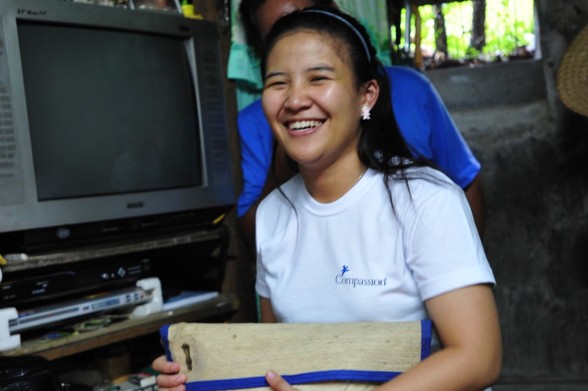 Meann (pictured above), on the other hand, had a satchel full of letters and photos and she beamed from ear to ear as she displayed them to us. Each one she had treasured and kept secure in her memory box to review for years to come. She proudly told us about each of her past sponsors and identified them by name.
The financial aspect of sponsorship is obviously essential, but the written letter goes beyond the physical and offers that emotional affirmation that encourages a child to persevere, to dream, to press on towards completing their goals, to know they are loved by you and by the truly Important One, King Jesus.
A letter offers hope, encouragement, affirmation, spiritual inspiration, and friendship. All of which are instrumental to the holistic healthy development of a child.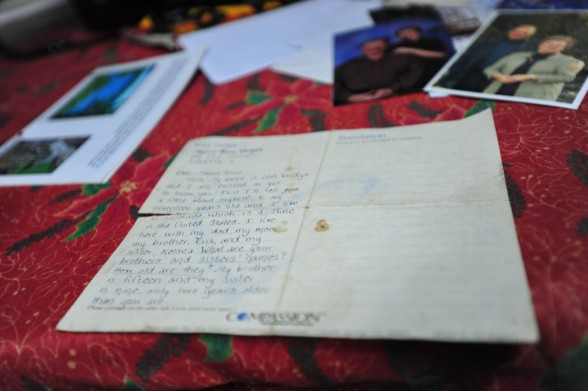 A study in Ethiopia revealed an improvement academically of 20-30% growth from children who received just two letters a year over those who received none.
How long does it take to write a letter? In our day and age of technology, we have lost touch with the beauty of the written word.
Verbal affirmation is valuable, but the written word is a keepsake. It is something that can be reviewed again and again. When they are discouraged they can look back upon your words to lift them up again. When they are scared they can see that you are praying for them and they are loved from afar.
What Can You Do?
If you sponsor a child through Compassion, I want to thank you for your commitment to this child. It does make a world of difference as we have witnessed first hand. But would you stop and take a moment today and write your child a letter? Include your children in the process. Let them write a letter. Let them experience the impact of corresponding with a child in a foreign country. What a sweet way to expand your child's worldview, culture, geography and heart for others.
It only requires a piece of paper, pen, a stamp, envelope, and thirty minutes of your time. Include verses, tell about your family, ask about their life, cheer them on. Compassion even makes it easier for those who prefer email. You can write online and it will be forwarded on to your child.
If you don't sponsor a child, may I encourage you to do so today. Start building a relationship that could impact a child for a lifetime. Or consider the opportunity of being a child correspondent. You can sign up to be a friend to a child around the world.
Lastly, who might appreciate a written card or note of encouragement in your life right now?
Take a moment and write a note and drop it in the mail. Write a gift of grace to another. You never know the long term impact your encouraging words can have. Write to your children. Even if they are too young to read. These will be such a gift to your children when they are grown and gone.
"But encourage one another day after day, as long as it is still called "Today," so that none of you will be hardened by the deceitfulness of sin." Hebrews 13:3
For further help on writing letters to your sponsored child, visit the FAQ page. You can write online and/or print stationary from the Compassion website.
Hear more stories of our adventures in the Philippines on the Compassion Bloggers site. You don't want to miss it!