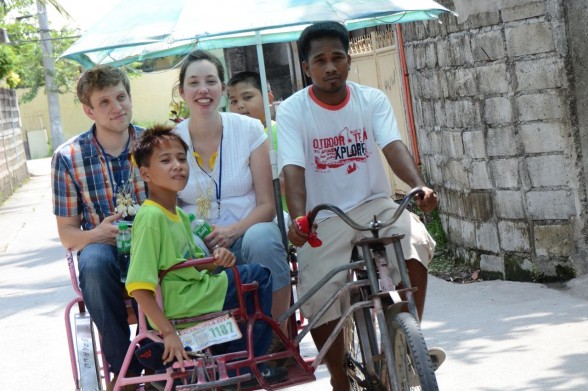 Day 3 in the Philippines sees us riding upon a pedicab being escorted down the narrow streets of a community in a large wet marshland with ponds of water scattered about on either side. It is an area succumb to frequent flooding in the rainy season. Houses all around lie a foot deep in dirty slim water with tires and strips of wood to provide stepping stones into their homes. Clothes hang to dry over the water by thin strands of rope.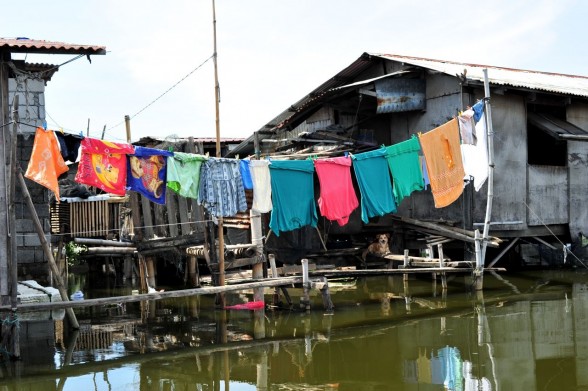 In one spot the entire road is covered with water with no passage through beyond a cement sledge border running the length of the road upon which people hobble along to reach their homes. Fishing (called milk fish) is the livelihood of the community along with pedicabs escorting people from here to there.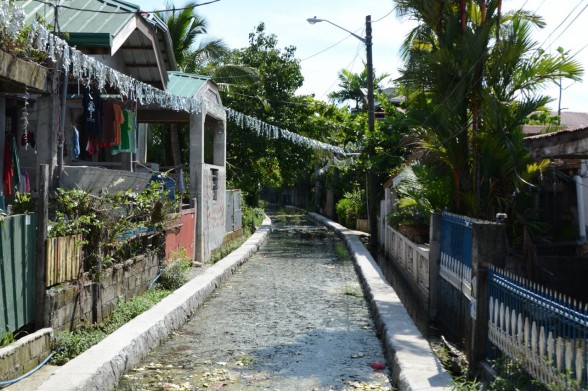 We come to a small wooden tin roofed house built upon two foot high stilts. Underneath lays a sludge of wet marsh. Outside their door is a pile of paper trash of receipts from which the children sort and recycle for supplementary income.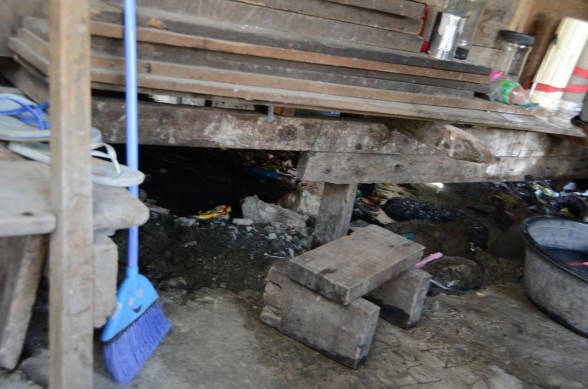 Upon entering the approximately 12 foot by 15 foot home, divided into three small rooms, we are warmly greeted by a vibrant mother and her three young children. There is no furniture besides a bunk bed, dresser and kitchen counter with one office chair for seating.
The father works insane hours as a driver in a distant village. He leaves at 4 o'clock in the early hours of the morning and often does not return till midnight or 1 am the next day. Yet they express thanks to have the extended family and help of neighbors living next door. They share community meals together.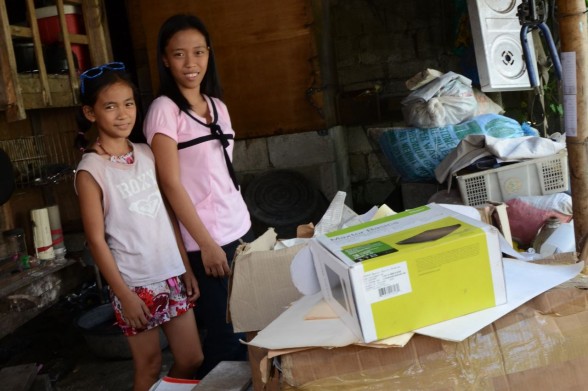 Their home flooded in October of 2009 when a three foot high wave of water filled their home. They were completely stranded and slept upon the upper level of the dilapidated bunk-beds that the children slept upon. They simply had to wait it out. But in their struggle the expression on their faces is one of thankfulness. "We were blessed because we had milk fish swimming through out home that we were able to catch and eat."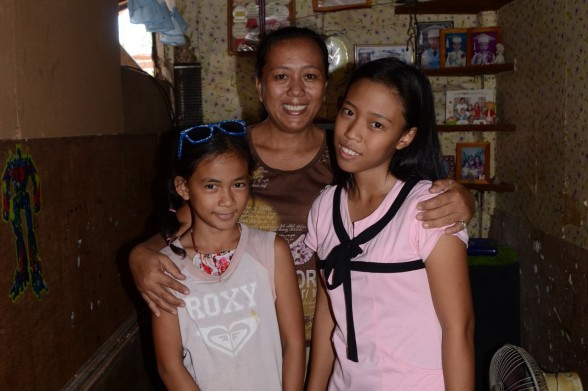 Mary Rose is the oldest daughter at fourteen who thrilled us with her love for singing earlier in the day. Her love for Jesus was clearly displayed on her countenance. She entered the Compassion Child Sponsorship program at age five and testifies of the impact it has made upon her life. She heard about Jesus and chose to give her life to Him. She can now dream. Medals and certificates cover the wall displaying the family pride in their daughter for her success in school and church. She dreams of becoming a teacher and loving on children in the way she was loved. She loves the exuberance of children and wants to help them. Even at the tender age of fourteen, she is already serving by teaching other children in her community through volunteer teaching in the Compassion program. She is a beautiful young lady rescued from her poverty and given an opportunity for a future, and she wants to pass on the gift she has received.
Throughout the duration of telling us their story, the smiles never leave their faces. They are so beautifully content. They thank us incessantly for coming to their home. They spent the day talking among their neighbors of how greatly they anticipated our arrival.
Yesterday, we visited another amazing family of 15 (extended family all living under one roof) cramped into a 250 square foot home. When we asked our host what she had been doing that day, she excited expressed, "Nothing really. We were just waiting for you to come. We were so excited for you to come."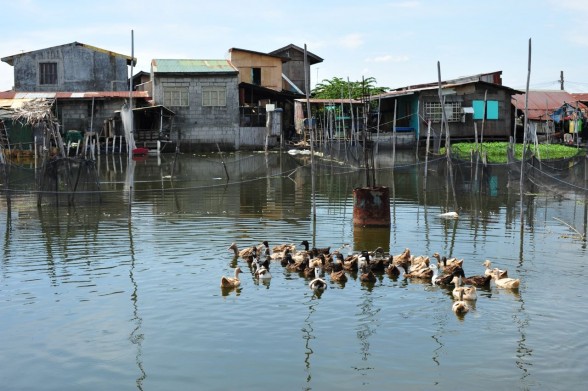 This family could offer us no more than a simple wood floor or old office chair to sit upon and yet they gave it so freely. They have nothing to give beyond their love and welcoming smiles. How can I ever again be intimidated by the thought of extending hospitality to others in my own home when I see such joyful love extended amidst such poverty? We reside in a culture with such abundance and yet we shrink back at the thought of the uncomfortable nature of opening our homes and lives to others. Here are families that greatly anticipate our arrival and thank us repeatedly for visiting their homes while I stand as one who stresses over the fear and details of welcoming in another.
Today I was loved upon in a way that I will never soon forget. Even in their poverty, they freely gave us their love. Isn't that what true hospitality is all about? The simple extension of our hearts and hands to show the love of Christ to others? We might not have huge resources to give, and yet we all have a home, a heart, and hands to extent to others. Eight of us sat crowded around their floor but no one gave it second thought.
We have been given so many gifts. How can we pass on what we have without thought to size or substance?