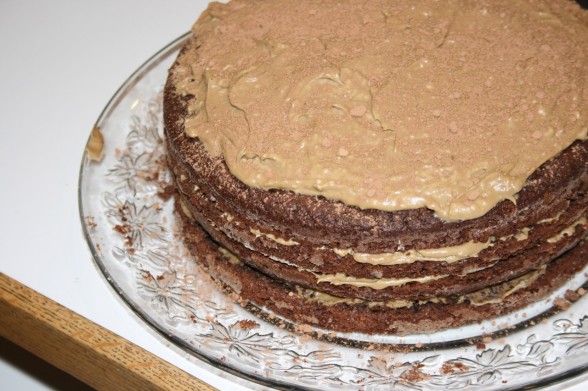 We celebrated my little man Titus' second birthday this last week and what a joyous celebration it was. I knew it was my opportunity to experiment further with a healthy use of sourdough to make a chocolate cake. What a surprise! With my sourdough starter, whole wheat flour, and sucanat (as my natural sweetener of choice), the result was a delicious moist semi-sweet chocolate cake that was not sour in the least. I was thrilled to make a healthy dessert. I made two 8 inch round cake pans with the recipe and then cut them each in half to make a four layered cake. I layered it with cream cheese frosting and finally cocoa powder dusted over the top. A healthy cake? Amazing. Here's my adaption:
1 cup fed sourdough starter (I purchased my starter through Cultures for Health and it was alive and well in one week!)
1 cup milk of your choice (I used half cow's milk and half hemp milk)
1-3/4 cup whole wheat flour (preferably whole wheat pastry flour for a softer texture)
1-1/2 cups sucanat/rapadura
1 cup unrefined, virgin coconut oil, melted
2 teaspoons vanilla extract
1 teaspoon sea salt
1-1/2 teaspoons baking soda
3/4 cup traditional cocoa powder
2 teaspoons finely ground coffee
2 large pastured eggs
Directions:
1. In a large mixing bowl, combine the sourdough starter, milk, and flour. Cover and allow to sit at room temperature for 8-12 hours. I like to set my sourdough to soaking in the evening and then finish it the next morning. You can sit up to 24 hours but you will have more of a sourdough taste to the mixture which may be less desirable.
2. Preheat the oven to 350 degrees and grease 2 (8 inch) round/square cake pans with butter or coconut oil. Dust with flour to make sure it comes out easily after cooling.
3. To the sourdough mixture, add sucanat/rapadura, coconut oil, vanilla, and eggs. Beat gently until well combined.
4. Add salt, baking soda, and ground coffee. Beat briefly till smooth.
5. Pour cake mixture into your prepared pans and bake in the oven for 20-25 minutes, or until a toothpick/knife inserted in the middle comes out clean. Cool completely before turning over the pans and allowing the cakes to pop out onto your platter of choice.
You may frost between the two layers (which will more likely fall apart at slicing), or divide the cake into four layers (each cake cut in half horizontally) by  inserting toothpicks half way up the side about 2-3 inches apart all around the side circumference of the cake. Take a serrated knife and line it up on top of the toothpicks, using them as your guide, and slice carefully through the center of the cake until it is divided in half horizontally. This technique results in a much more even cut. Here is a picture of this process.
For more inspiration on how to create your own sourdough and a wealth of delicious recipes, check out the Gnowfglins Sourdough eCourse. Thanks to Gnowfglins for the original recipe that can be found here. Highly recommended!
Cream Cheese Frosting with Powdered Sucanat
Did you know you can make a healthy natural frosting by blending sucanat (the whole cane sugar) or rapadura in a blender to make your own powdered sugar? Thanks to Laura at Heavenly Homemakers inspiration, I made my own cream cheese frosting. You may add 1/2 cup cocoa powdered to frosting for more of a chocolate flavor.
1 cup sucanat/rapadura
1 (8 oz) package cream cheese, softened
1/4 cup butter, softened
1 teaspoon vanilla extract
Place 1 cup of sucanat/rapadura in your blender and blend until light and powdered (about 30 seconds). Combine cream cheese and butter together in a large bowl and whip until creamy. Slowly add your powdered sucanat and vanilla until it reaches your desired sweetness. Spread out over your cooled cake and enjoy!