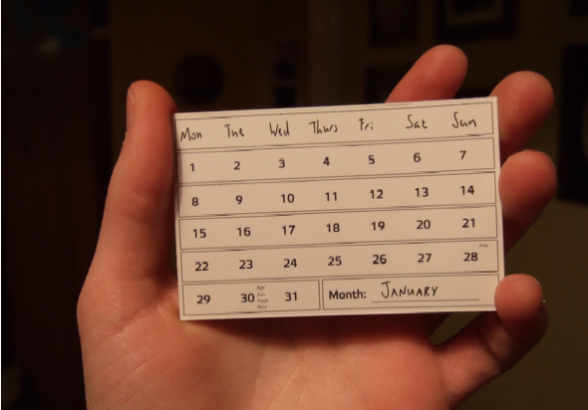 Photo Credit
Routine…it is a beautiful word. Children thrive on it. Mommy's fill satisfied and organized when they have it. And Daddy's get all the benefits of a peaceful home upon their arrival when it's in place. At least that's what we strive for. Perfectionism is not the goal…but rather a good structure through which we can maintain our lives, relationships, and homes for the glory of God. It brings peace into our household when all the little ones are well rested. But it can be the hardest thing to figure out what works for your family. But your efforts are well worth it.
After developing a mission statement in which you map out your main priorities and goals, then building a simple schedule/routine can be more easily accomplished. You have decided what are the priorities, what you can and cannot do, and now we will map it out.
Time Budget
You might choose to use a time budget approach (as described in Tell Your Time) which means you take the 24 hours of your day, subtract your hours of sleep, and divide the remaining hours (usually about 16 hours), into your envelopes of priorities. I want to spend two hours of focused time with my children each day, so I put two hours there. I need to spend about 2 hours on meal preparations and clean up, and so I stash two hours there. And so on. This approach really helps for us to see how much time we truly have at our disposal. If used and divided wisely, we can surely accomplish those dreams on our list. Always add a hour buffer to your time as well, taking note that something will not always come out as planned.
Morning/Evening Routine
Another method is the Morning and Evening Routines. Rather than structuring hour by hour, this provides a bit more simplicity by just making a list of what are your morning tasks to be accomplished sometime between 9-12noon, and what are your evening tasks to be accomplished before bed. This method provides plenty of flexibility and works well for those who do not like too much structure.
We use a mix of both structures in our home. I like to schedule out my mornings more definitively, but I do have a rough morning routine  that may not always fit into the hour structure. Here is what an average day looks like at our home:
Our Daily Schedule
6:00 am – Personal Bible reading time individually, plan for the day (make my to-do list)
7:00 am – Shower (3 times a week), dress, devotions with Aaron
7:20 am – Lindsay prepares breakfast, packs Aaron's lunch (if I don't get to it the night before)
7:45 am – Aaron leaves for work
8:00 am – Breakfast with kids, read Jesus Storybook Bible together over breakfast, cleanup, dinner preparations (take anything out of the freezer, etc), quick house pick-up, fill up water bottle
9:00-11:00 am – Learning time with Karis (currently we are using the Sonlight P4/5 curriculum and are loving it, along with Singapore Math KA), reading stories, special activity (tea, baking project, playdough, etc)
11:30-12:00 noon – Lunch, cleanup
Variations from day to day: Monday mornings is my cleaning and laundry day. This is the day I am wearing my comfies and just get the house in order for the week. This helps me get the fun stuff out of the way first

, and then I don't have to worry about it so much throughout the week. I spend two hours vacuuming and mopping all the surfaces in our home and clean the bathrooms, while rotating the laundry through. We do about 5 loads of laundry (this is for the whole week). Thursday mornings we attend story-time at our local library. Saturday morning is my planning time, when I go to a coffee shop for 2 hours while daddy feeds and plays with the kids.
Afternoon Routine: Naps all around. The kids will nap for 1 1/2 – 2 hours. During this period, I usually nap for 30 minutes, followed by my 1 1/2 hour computer/personal time. After naps, we have a snack, and then we might go for a walk, visit the playground, prepare dinner, etc. I keep the afternoons really flexible. I may have to complete something that didn't get done in the morning. We do our grocery shopping (through our local co-op), and various errands on Tuesday afternoons.
Evening Routine:
Family dinner
Clean up dinner dishes while Daddy plays with kids
Kids bath (3 nights a week)
Prepare Aaron's lunch
House pick-up (this helps give me a good start the next day if the house is picked up, kids put away their toys before bed)
7:00 pm – Titus' bedtime, 7:30 pm – Karis' bedtime
One on one time with Aaron
Variations: Tuesday night is our date night. Thursday night we host community group. Friday night is family night. And we usually have hospitality on Saturday or Sunday evenings.
Q & A From the Readers
How do you entertain my children while you maintain the house?
This is a question we receive frequently. How do we get anything done around the house with little ones? We have always emphasized in our children's training that mommy is not here to entertain them. Since they were babies we were intentional in giving them time to themselves each day so they learned how to entertain themselves. We would set them up in the pack n play, or on a blanket and allow them to have time to play by themselves for 30 minute periods. I would often leave the room for brief periods as well, so they would learn that they could survive without mommy there at every moment. This practice has surely paid off, because my kiddos entertain themselves so well now.
On Mondays, during housecleaning, I do allow Karis to watch a 30 minute video to break it up a bit. This will be either a learning video or family home videos. She loves family videos and will certainly have our family history memorized! For a portion of our housecleaning, the kids will help out. They may play a game of chase the vacuum, or mop the floor, or help me wash the dishes. I try to include them whenever they want to participate, reinforcing good work ethic and responsibility. Otherwise, they like to play with their tricycles indoors or outdoors (bringing bikes indoors is tons of fun!), listen to music on a portable CD player, play with their kitchen set, dress up with the dress up box, or simply look at books. Since we haven't exposed them to much technology entertainment devises (we don't have a TV), they have learned to enjoy themselves in whatever fashion they desire.
How do you do laundry all in one day?
I strive to keep the laundry simple. We only have 8 outfits each for the kids in addition to 3-4 pajamas, so we keep our clothing limited. Aaron and I usually wear our clothes at least two times between washing. I combine loads of laundry to make sure I have full loads for the greatest efficiency. This means instead of doing a separate towel load, I combine the white towels with the white clothing, and the dark towels with the dark clothing. The same is true with our linens – they go in with the other laundry. I wash the sheets and towels once a week and they all get stripped down and replaced on Monday, so I can keep track of their cleanliness. This enables me to keep our laundry to a minimum. So all together we have about 5 loads per week – 1 colored loads, one white, one dark (which may have colored additions), one for kitchen towels/rags (as I wash these separately as I don't want the smells to affect our clothing), and one for cloth diapers. I also do a second load of cloth diapers later on in the week.
When do you exercise?
Good question. Whenever I can fit it in. Sometimes I will run up and down the steps after the kids go to bed for 15-20 minutes. Sometimes I will take a walk with the kids in the afternoon. Sometimes it just doesn't happen. If nothing else, I just keep moving around the house quite a bit.
Do you have any girl time?
Yes, I actually get together with my sister once a week (early Wednesday morning before Aaron goes to work) and we have accountability time together. I also participate in a monthly ladies Bible study. We also like to have friends over for lunch at least once a month midweek to have play times and fellowship.
Overall, it is important to remember that what works for me may not work for you. This is also the beauty of routine. Your routine will be adapted to fit your needs and preferences. There is grace to adapt, grace to flex, and grace to simplify. Try a little of this and a little of that to help determine what works for you. And once you figure it out – stick with it! But remember, it will need adapting in future seasons. Our schedule changes a bit every few months, as something is added or another is dropped. There is grace to make changes as you see necessary. Pray and dedicate your time to the Lord and ask Him to guide you in crafting your own routine/schedule.
In addition, there are many days when all I accomplish is getting the kids dressed and fed. I have to let other things slide and just keep food on the table. If everyone is happy (their cups filled with love), even if the house is a mess, than I can feel it has been a productive day. There is always beauty to find in the mundane! You are a virtuous woman when you take delight in worshiping your Creator through your work.
If you have any questions on our schedule, please feel free to ask. I'd also love to hear your scheduling tips!