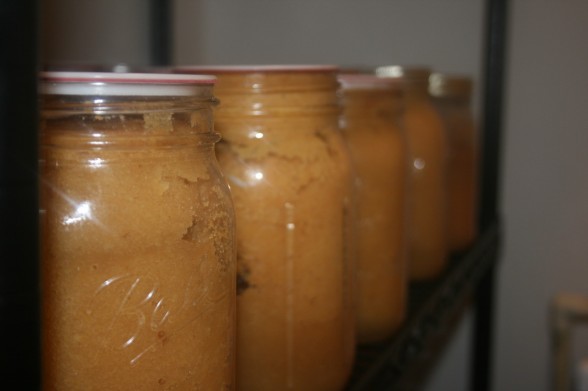 I have done the strenuous work of preparing applesauce for several years by laboring over chopping, cooking, pureeing through a food strainer (a great tool, but still extra work), and finally cooking again and seasoning. It takes a lot of time and effort and required a huge family crew. When this year came around, I knew I must simplify the process. My children love applesauce and it makes a lovely quick, easy, and healthy snack.
With my new technique, applesauce preparation was a breeze! No peeling and no straining! No need for any extra special equipment, just a blender or food processor. I used my favorite tool – the Blendtec – but you certainly can use what you have on hand. You may have to prepare smaller batches, but it will still readily save you a lot of time and effort. Plus, keep the peels on will give you more nutrition, since the majority of the vitamins are directly under the skin! You also are cooking the apples far less (just heating to warm before processing) and thus preserving more nutrition there. I made two dozen jars in just over an hour!
We also used the Tattler reusable and BPA free canning lids this time and were very pleased with the results. They do take a little extra effort, in that you have to tighten and then unscrew 1/4 inch before processing, and then tighten immediately after removing from the water bath (which can be very hot and difficult to accomplish without a thick towel), but I believe the re-usability factor out ways any disadvantages. I had one lid pop off while tightening and one pop off in the processor, so I assume it just takes a bit of time to get used to the process. I love how they are BPA free as well, so we don't have to be exposed to this unnecessary toxin which is present in the standard Kerr/Ball canning lids. (Thanks to Stephanie at Keeper of the Home for her review of this product!). For my local friends, the Tattler lids are available at Mirador Community Store in Portland.

Here's my video tutorial:
httpvh://www.youtube.com/watch?v=JSss7GRePs0
Directions:
1. Prepare your water bath by filling with water 3/4 way up the side of the pot. Cover and bring to a boil. In the meantime, sterilize your glass canning jars in the dishwasher by running them through a cycle. Place a small pot on the stove with the canning lids to sterilize as well. Bring to a boil and then turn down to a simmer while you can the applesauce.
2. Cut your apples into large chunks, removing the core and seeds. No peeling is necessary!
3. Place the apples in small quantities in a food processor or blender and add approximately 1/2 cup before pulsing/blending the mixture until smooth. Add more water as necessary.
4. Transfer pureed apples to a large stock pot and season as desired with sugar and cinnamon (we use about 1 Tbsp cinnamon and 1 Tbsp or more sucanat for a large stock pot full of applesauce). Heat sauce until just warm.
5. Once the applesauce is heated and sweetened, pour carefully into your sterile glass quart size canning jars (a funnel is ideal for this process). Place hot lids on jars (whether your standard Kerr/Ball canning lids or Tattler lids).
6. Place jars in a boiling water bath. Once water bath is full of jars, cover, and return water to boiling point. Once it is boiling, process for 20 minutes. Transfer to the counter to cool completely.