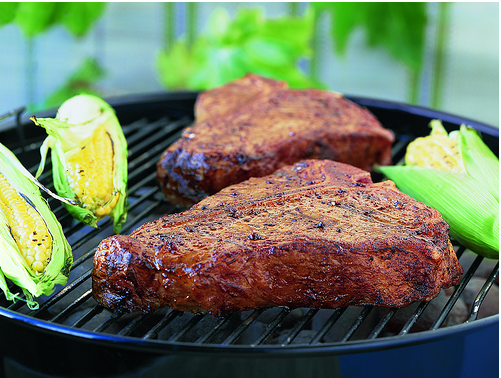 Welcome back to the continuation of our series on natural summer barbecuing! Today we will share our favorite means of preparing some mean steaks. We select grass-fed steaks, if possible, and they tend to be a bit more tough than your standard commercial meat. The perfect solution is a delicious natural marinade. This marinade makes the most flavorful and moist steaks, as long as you don't over marinade or over cook your steaks!
1/4 cup soy sauce (fermented)
1/4 cup olive oil
1/4 cup fresh lemon juice
1/8 cup white vinegar
2 teaspoons garlic powder, or 3-4 garlic cloves, minced
1 tablespoons dried basil
2 teaspoons dried parsley flakes
1/2 teaspoon ground white pepper
Directions
Combine all the ingredients in a blender. Blend for 30 seconds until thoroughly mixed.
Pour marinade over desired type of meat in a Ziploc bag or covered container. Seal or cover and refrigerate for 8 hours. Rotate regularly to allow all the meat to have soaking time in the marinade. Cook meat as desired. Makes enough to marinade for 4 steaks.
Steak Barbecuing Tips
Aaron has tried and proven these tips successful thanks to How To Grill Great Steak.
Preheat the grill: For gas grills preheat on high for 20 minutes. Charcoal grills are ready when the coals are covered in white ash (high heat).
Apply Rub: While grill preheats apply rub of choice. We love Montreal Steak Seasoning.
Sear the steaks: Place the steaks on the grill and cook for 3 minutes a side on the highest heat setting with the lid closed.
Cook the steaks: Reduce the heat to medium high. For charcoal grills move the coals to the outside of the grill leaving the middle open. Continue cooking according to your preference:

After searing grilling chart
Steak Thickness
1″
1 1/4″
1 3/4″
Rare(120-129F)
0-1 Min
2-3 Min
4-5 Min
Medium Rare(130-139F)
1-2 Min
3-4 Min
5-6 Min
Medium(140-149F)
2-3 Min
4-5 Min
6-7 Min
Medium Well(150-159F)
4_5 Min
6-7 Min
8-9 Min
Let steaks rest: Take the steaks off the grill and let rest five minutes.