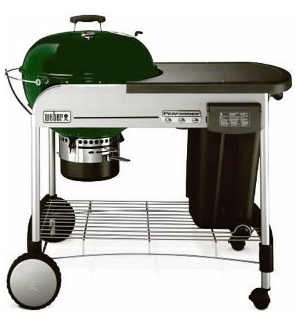 Summer is upon us and so the delicious grilling begins! Over the next few weeks, my hubby and I will be sharing some of our favorite grilling recipes, tips and tricks in a series titled: Natural Summer Barbecuing. We will be sharing homemade BBQ sauce, steak marinade with steak cooking tips, how to BBQ a whole chicken, and scrumptious shish kabobs.
Today we want to share reviews of our favorite BBQ tools. After much research, we choice to purchase the Weber Performer Charcoal Grill, and what a perfect BBQ is has been for us. The family and I chipped in to purchase this for Aaron's birthday last year and he absolutely loves it. Having good quality solid tools make a huge difference in inspiring him to desire to perfect the art of barbecuing. A good investment I would say as I am the recipient of some delicious dishes! We love this BBQ because it provides the wonderful smoky flavor of carcoal without the hassle of preparation due to the propane lighting feature. With one quick flick of the switch, your coals are lighted and then you just need to let them heat up. It's significantly easier and quicker than the standard charcoal grill. The accompanying table and briquettes storage bin are very useful for keeping everything in one place and for easy preparation. There is also room to hang your tools underneath. We also recommend the purchase of the weber cover, as it significantly protects during the winter weather. We also like this one because we have the potential to add some great additions – such as the rotisserie attachment. In general though, a charcoal grill is your best bet for authentic and delicious barbecuing in addition to being the cheapest option!
Natural briquettes – Look for 100% natural hardwood charcoal when making your selection. They are 100% free of chemicals, additives, or fillers. Commercial charcoal is a carcinogen producer. Hardwood burns longer and hotter with less ash as well. Trader Joe's carries an 18 lb bag of hardwood briquettes for $6.99 (only in the summer, so stock up!).  Another natural brand is Wicked Good Charcoal which has distributors all around the country, so check out their "Where to Buy" page. Amazon also sells a natural brand. Cowboy Charcoal can be found at Lowe's nationwide.
Stainless Steel BBQ tools -a solid set of stainless steel bbq tools will last you forever. They are also perfectly safe and natural. They are easy to clean and dishwasher safe. A good set of BBQ gloves is also another essential.
Vegetable Grilling Basket – this is a helpful tool for barbecuing vegetables, corn and the like. The results are scrumptious!
How to Grill: The Complete Illustrated Book of BBQ Techniques by Steven Raichlen – you really only need one thorough guide for barbecuing and this book will definitely serve you well. It covers everything from preparing and barbecuing every cut of meat possible, but also a wealth of delicious recipes.
Stay tuned for the recipes!
Do you have any favorite tools to recommend?