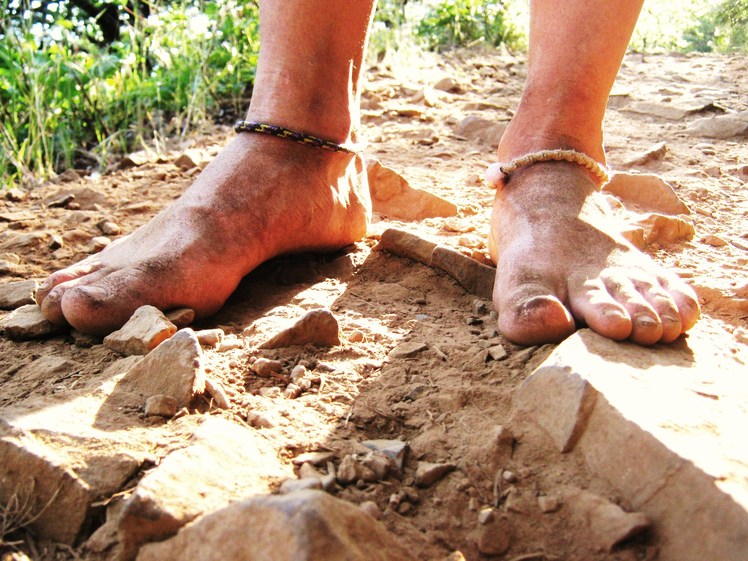 This article was written by Passionate Homemaking's monthly contributor, Ann Dunagan.
I've always had this "thing" for baby feet. I pull off darling shoes, and little newborn socks, and just want to kiss each of those tiny toes! I always ponder where a baby's precious feet will go, and about God's destiny and purpose for each new life. But speaking as a mother, what happens when our kids grow up, and God perhaps would call our sons, or our DAUGHTERS, to dangerous places?
Our oldest daughter, Christi, recently climbed a mountain barefoot. She didn't want to wear out her TOMS, which incidentally are shoes produced by a company to help impoverished kids . . . . who don't have shoes. These dirty feet (pictured above) actually give a pretty clear glimpse of our daughter.
Christi's always dreamed of daring things for God. She's grown up on a steady diet of missionary biographies — Amy Carmichael, Gladys Aylward, Florence Nightingale, Lottie Moon, and Elisabeth Elliot; but she's done more than merely read about godly self-sacrificing women. Christi's been living-out her own mission adventure story, as she's also continually dreaming about the future.
The Bible says, "And how shall they preach, except they be sent? as it is written, How beautiful are the feet of them that preach the gospel of peace, and bring glad tidings of good things!" - Romans 10:15
I want to be a mom who encourages each of my children to completely fulfill God's destiny — not by my efforts, but by God's GRACE!!!
My husband and I know that each of our sons, and our DAUGHTERS, have been entrusted by God into our family to be raised FOR HIM and His mission-minded and eternal purposes. We want each of our kids, including each son and each DAUGHTER, to fully obey God's call and purpose for his or her life. Sometimes, as a caring and loving mom (who remembers kissing my babies' feet and tucking away their precious hand-knitted booties for the next generation), that can be challenging and stretching . . . but oh, what a JOY!!!!
Here are a few pictures of our daughter on a mission outreach in East Africa. Christi was instrumental in helping to establish two orphanages in Uganda, East Africa, currently caring for over 700 children orphaned primarily by AIDS. During her last year at home, Christi worked tirelessly in our ministry office, coordinating child sponsors and sharing needs. She's traveled the globe to share the Gospel and to help others; but her passion for people who need Jesus is just as fervent here in the United States. She loves to mentor young women, to pray for those who are hurting, and to speak out for world missions!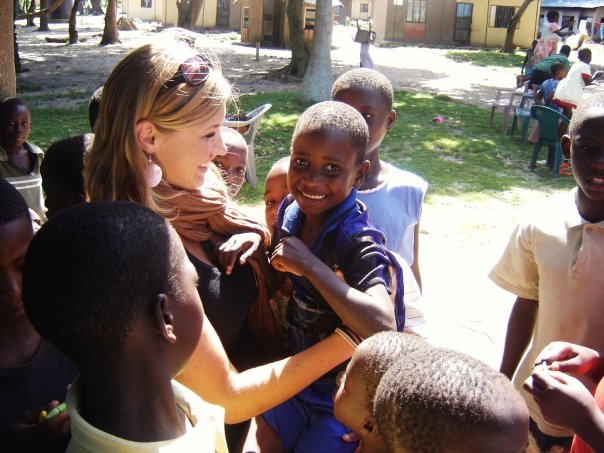 As mothers in God's kingdom, we need to raise our daughters to love Jesus AND to realize that multitudes of God's precious daughters throughout the world desperately need all the motherly-and-sisterly-love we can give, along with our sacrificial prayer and help.
Rescuing one of God's Girls . . . in Uganda, East Africa
When Christi was 15-years-old, she wrote a powerful orphan essay about the needs of one abused girl, named Jennifer, and this essay was only the beginning of God stirring His compassion in our daughter's heart.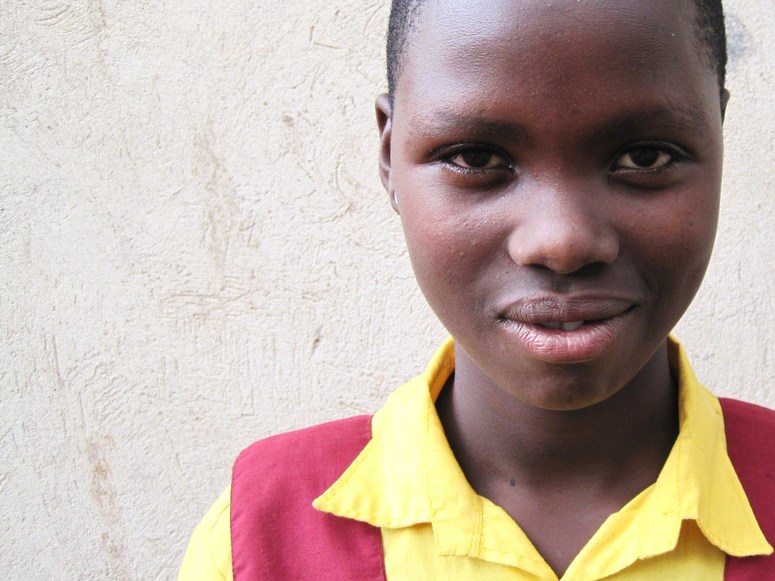 Here is a picture of this rescued girl today (four years after Christi wrote the article). Jennifer continues to live with our dear friends, Naboth and Alice, and is a vital testimony of God's hand on these orphan children. The most recent report is so beautiful.
Naboth wrote:
Jennifer is now in primary four. She sleeps and "feeds" at our home, and is very bright and hard working. She "leads praising" in Sunday school. Her hope and happiness is restored, as God has healed her wounds.
Ministering to God's Girls in Cambodia
As for Christi, she's now in her final semester at a Christian university, writing her senior paper on the horrible issues surrounding child prostitution, human trafficking and the necessary process of healing after sexual abuse. She's also preparing to be an assistant team leader for an upcoming two-month summer mission to Cambodia, to minister to young girls (our precious sisters in Jesus) rescued out of the sex trade.
Sometimes, we selectively read God's word. In Proverbs 31, our Bible studies focus on the "lovely" verses regarding beauty and virtue, but miss the need for godly compassion and justice. As virtuous women, our households are to be "clothed in scarlet" (protected by the blood of Jesus, for perhaps dangerous assignments). We're to extend our "hand to the needy" and to train our daughters — as a voice for the speechless, the dying, and the lost — to fear the Lord.
Here are my favorite Proverbs 31 verses:
"Open your mouth for the speechless, for the cause of all who are appointed to die. Open your mouth and judge righteously, and plead for the cause of the poor and the needy."
Proverbs 31:8-9
As a longtime homeschooling mom (finishing my 19th year) I'm aware of accusations concerning homeschooled children who've been isolated and sheltered from reality.
And I confess:
We have protected our children from compromising friends, sinful lifestyles, and wasteful distractions. We have kept our kids "sheltered" in prayer by the powerful blood of Jesus Christ. And we have rejected the reality of low expectations.  However,  through our homeschooling freedom we've actually exposed our children — with oversight and spiritual protection — to  horrendous realities in our world. As a result, our older children are now helping to IMPACT the darkness with the light of our wonderful Lord!
Being a godly mother can be a daring assignment.
May we accept our mission in faith, not fear! May God's goodness flow through us and our family, and through each of son and each DAUGHTER.
May we raise DARING daughters who follow God's purposes, in complete submission to Him, with fervent love  . . . and perhaps, with dirty feet.
And as moms, may we be DARING too!
For what mission are you raising your children to accomplish today?

Ann Dunagan is a longtime homeschooling mother of 7 (ages 9 to 23, with 3 graduates), an international speaker with Harvest Ministry, co-founder of two orphanages in East Africa (caring for over 700 children), and author of several books including The Mission-Minded Family. With a passion for the Lord and the lost, Ann motivates families for world missions.