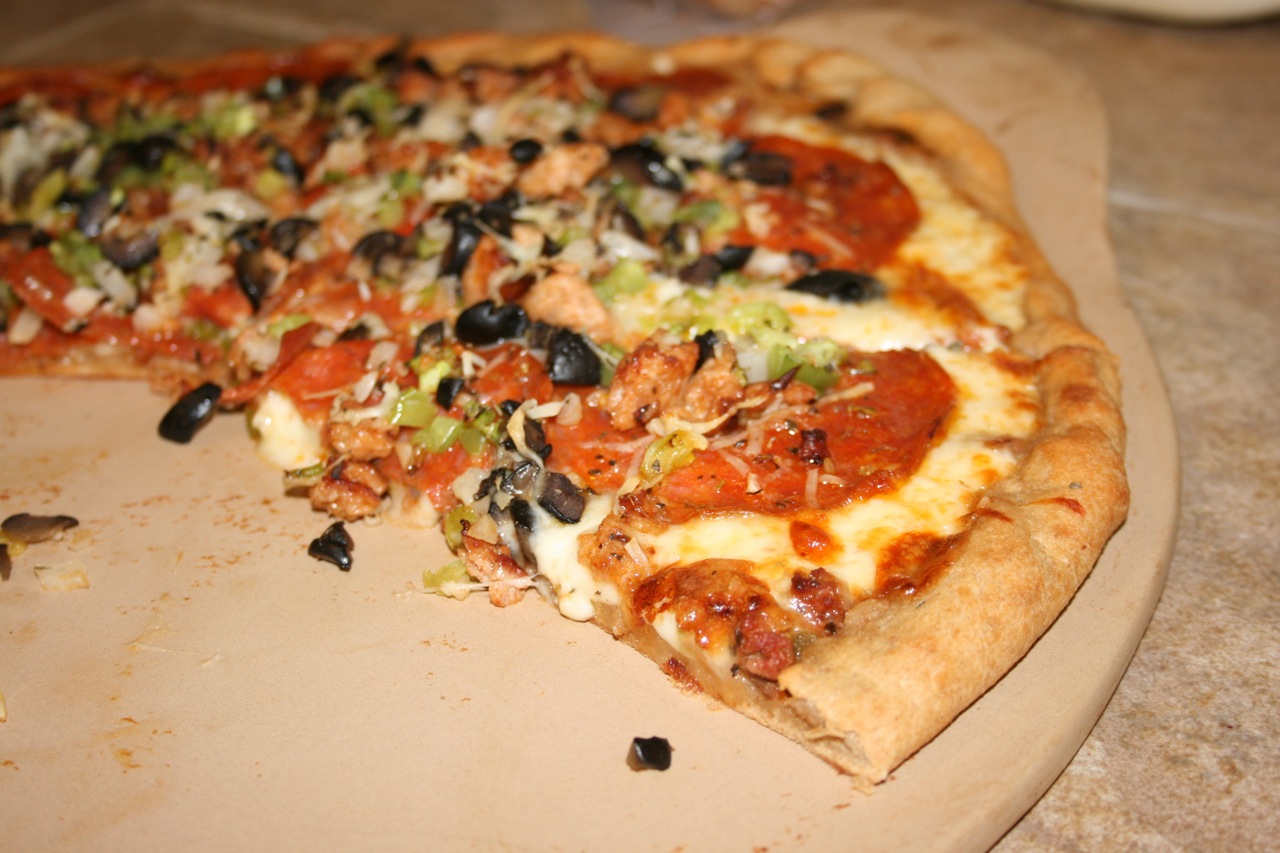 Pizza is a family favorite at our house…especially when you load it up with lots of delicious, fresh and hearty toppings! Here are my favorite tips for the best pizza:
Pizza Stone
I must say that I love my Pampered Chef pizza stone (thanks to hosting a PC show, I got this for free!). It makes the best crispy crust. It is never soggy or undercooked. It is easy to cut on and clean (no soap is necessary or recommended). Stoneware gives it a fine even baking to your crust. No burning your pizza here! After several uses, stoneware becomes non-stick as well, but until then, a thin layer of olive oil does the trick. Although a pizza stone is not essential, it is a nice addition! I highly recommend it if you like pizza at your house! Amazon also sells one, but I cannot say how good it is.
Sauce – Less is more!
The more sauce you put on your crust the more soggy your dough will become. A very thin layer will do you just fine (about 1/4 cup is all). Just remember…less is more! You don't need any fancy pizza sauce either. Just some simple spaghetti sauce pureed in the blender will do. Spread it thin it spatula.
Cornmeal
Dust your pizza stone or pan with ground cornmeal before laying our your crust. This helps give it a nice crisp crust!
Combine your Cheeses
I use a combination of mozzarella and white cheddar cheese on my pizzas, with a final thin topping of Parmesan on the very top. It gives the pizza a ton of flavor. A sprinkling of Parmesan on the top gives it a yummy crunchy texture as well!
Spice it Up!
Sprinkle a good layer of Italian seasoning and garlic salt or basic garlic powder on the top of your pizza. Yum!
Here is our favorite collection, topped in this order:
Homemade Whole Wheat Pizza Dough (soaked or regular as you desire)
Spaghetti/Pizza sauce, 1/4 cup pureed (I like to freeze my homemade sauce in small portions to pull out for this purpose.)
Mozzerella, sliced (about 1/3 cup)
Cheddar Cheese, grated (about 1/3 cup)
Pepperoni (Applegate Farm's Nitrate Free pepperoni is wonderful! 1/2 package covers one pizza.)
1/2 pound Chicken Sausage, cooked & crumbled
1/2 (15 oz) can olives, chopped
1/4 cup onion (red or yellow), chopped
1/2 Green/Red Pepper, chopped
Mushrooms, chopped
1/4 cup Parmesan cheese, grated
Dipping sauce: 1/4 cup butter, 1/2 tsp garlic powder. Melt together in a pan over low heat. We love to dip our crust into this sauce! Just like Papa John's.
Bake at 475 degrees for 12-15 minutes. Enjoy!