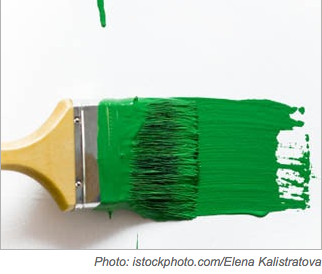 I love how a fresh coat of paint is such a simple way to transform your house more into a home. Whenever we have painted rooms in our home in the past, we have always been overwhelmed by the intense smell of fresh paint, to the extent that you just knew it was bad for you. Did you know that while adding color to a room, you are also slapping on lead, formaldehyde, benzene, toluene and xylene-all potentially hazardous to your health? These neurotoxins are powerful enough to vaporize into the air you breathe. After automobiles, paint and its companions are the second highest source of VOC (volatile organic compounds) emissions. The smells tend to stick around upwards of a week as the paint dries but can last up to three months. That is three months of exposure to toxic chemicals!
We recently painted our children's bedroom and were thrilled to discover that there are several high quality chemical free paints on the market that are safer for your home and the environment. We were also pleasantly surprised to find these alternatives to be comparable in price to the conventional brands. Now that it is finally painted (it has been white walls for three years now!), we truly feel more settled in to our home and I love it!
What to Choose & Understanding the Labels

Natural paints and finishes: Using a paint that is made from natural raw ingredients will produce a paint that gives off no smell. This is the ideal and safest choice if you have access to it (see sources below), but will be more expensive than the other options. Ingredients include: plant dyes, oils and resins; minerals such as clay, chalk and talcum; natural oils and waxes such a bee's wax; milk casein and natural latex.
Zero-VOC (volatile organic compounds) : This paint meets the EPA Standard of 5 g/L (grams per litre) or less. It appears that it can still have some chemicals though (learn more about this debate here). Pigments will increase the VOC ratio.
Low-VOC: This paint meets the EPA minimum requirement of no more than 250 g/L and no more than 80 g/L for oil based paint to be consider low-VOC. These paints, stains and varnishes use water as a carrier, contain no petroleum-based solvents and have very low levels of heavy metals and formaldehyde. So it can still have an off-gassing effect, just not as significant as conventional paint. Look for paints with the Green Seal Standard (GS-11) certification or the Green Guard Air Control label. Pigments will increase the VOC ratio.
So next time you are considering doing a little redecoration in your home, check out these safer alternatives.
Safer Paint Alternatives
Acro Pure by Miller Paints (Oregon & Washington) is described by the company as being "free of anything inappropriate, contaminating, extraneous, polluting, or impure." A buy 1 get 1 free coupon is available in the Chinook book, which was an incredible deal, saving us $30.  Acro Pure is green seal certified and contains ZERO-VOC. The label says absolutely 0 g/L. There was a very slight smell when originally applying but it went away within a few minutes. I was told the smell would be a result of the pigments but not the base.
Horizon by Rodda Paint (Alaska, California, Idaho, Oregon & Washington) – A buy 1 get 1 free coupon is available in the Chinook book as well.
Old Fashioned Milk Paint – All natural milk casein based paints with earth pigments. Completely natural option that I will be trying next time.
Green Planet Paints – Another mineral based paint.
Homestead House Paint Company (Canada)
For a complete guide on 35 eco-friendly paints, visit Eco-Friendly Paint, The Complete Guide.
Have you used any of these alternatives? What were your results?