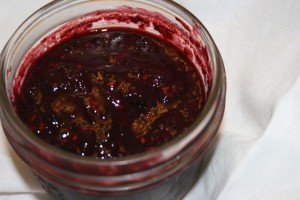 I love preserving my own foods for the upcoming year and jam is a favorite! It is practically impossible to find good jam/jellies on the market that are made without sugar or HFCS, so homemade varieties are the best alternative. Plus, it is superior in flavor and nutrition. In the past I have made canned jam sweetened with rapadura/sucanat with good success, but this year I wanted to go all out and avoid the cooking process. If you are going to put the effort forth, why not preserve as much of the nutrition in the berries as possible right? Surprisingly enough, the no-cook freezer jam method is incredibly easy. It took me about 1 hour to prepare 23 half-pint jars of yummy marionberry jam for our freezer (4 batches of the recipe below from 1.5 flats of berries). They do not take up much space either, especially if you select good stackable containers. I chose to use glass jars and it worked beautifully! You don't even need any special new canning jars or lids. I had an assortment of lids from various jars I had recycled and they all worked just fine. I prefer sweetening with rapadura/sucanut, but I tried a batch sweetened with honey and enjoyed it. You can use whatever your heart desires!
Pomona's Universal Pectin is a perfect natural pectin to use, free of sugar or preservatives. It is a low mexthoxyl type pectin derived from citric peels and pulp. It provides you with the freedom to experiment with your own desired choice and quantity of sweetener. You can use whatever sweetener you desire or abandon the sugar altogether! It is available online or at a local health food store (Whole Foods, New Seasons, Fred Meyer Nutrition, Azure Standard, etc). One box made approximately 20 (8 oz) jars for me, so I used just over 1 box. The rest can be saved for another time. Each box includes easy to follow directions. Last year I made the recipe with just 1 cup of rapadura/sucanat and it definitely was not sweet enough, in our opinion. This time around I bumped it up a bit and it was delicious! The recipe is included in the box of pectin, but you can also download it from their website here. There are other recipes included as well for cooked canned jam.
Here is my personal preference:
4 cups berries – I love to use marionberries or blackberries because they are so cheap (if not free)!
1/4 cup lemon or lime juice (optional)
1 cup honey or 2 cups rapadura/sucanat
3/4 cup water
3 tsp pectin
4-12 tsp calcium water (each box of pectin includes the calcium package to make this)
The easiest way I found was to start by boiling the water. While you wait, mash the berries in a blender or food processor. Combine with lemon juice and sweetener, mixing thoroughly. Put berries aside while you pour the boiling water into your blender along with the pectin and blend for 1-2 minutes until thoroughly dissolved. Add the pectin and water to your berries and combine thoroughly. Gradually add calicum water until it gels. I found that about 6 tsp was perfect for marionberries. Transfer to your clean 8 oz jars and cover securely. Make sure to allow 1/2 inch room at the top of the jar for expansion. Freeze immediately. The instructions say that once opened you need to use within a week. I think that it definitely last longer than this. If concerned, simply put it back in your freezer to preserve it longer.
The total cost for me was about about $1 per 8 oz of jam. Not bad at all!
What kind of jam do you like?
Check out Kimi's post where she shares about using less honey in her jam!