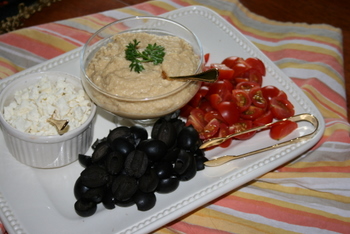 We stumbled across this idea after trying it on the appetizer menu at a local restaurant. We loved it and couldn't wait to try it at home! It is best served as a delicious light dinner, for a Saturday evening at our home, or an appetizer with a Mediterranean dinner of sorts. It is hands on all the way! If you like hummus and feta, you will love this dish! When you make your hummus from scratch, this is a very frugal meal! Hummus is an excellent source of protein and nutrition from garbanzo beans and sesame seeds. Yum!
Hummus (we tried this homemade hummus recipe with good results using homemade tahini – it's so incredibly easy and cheaper than the store! I used dry garbanzo beans, soaked them for 24 hours, and then cooked them for 5-7 hours in the crockpot. I added about 1 tsp cumin to my hummus with excellent results! Tahini, a main ingredient of hummus, can easily be made at home with a little coffee grinder and sesame seeds! Check out the recipe here.)
Crumbled Feta Cheese
Cherry tomatoes, sliced in half
Olives, kalamata or black, as desired, sliced in half
Naan, Pita, or flat bread (I attempted to make soaked whole wheat naan, but it was a failed experiment. For now, we greatly enjoy Trader Joe's Naan. Next time, I will try this Whole wheat naan recipe!)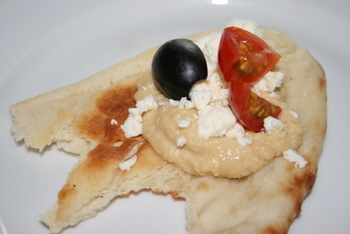 Scoop a little of each topping onto your piece of naan or pita and enjoy!