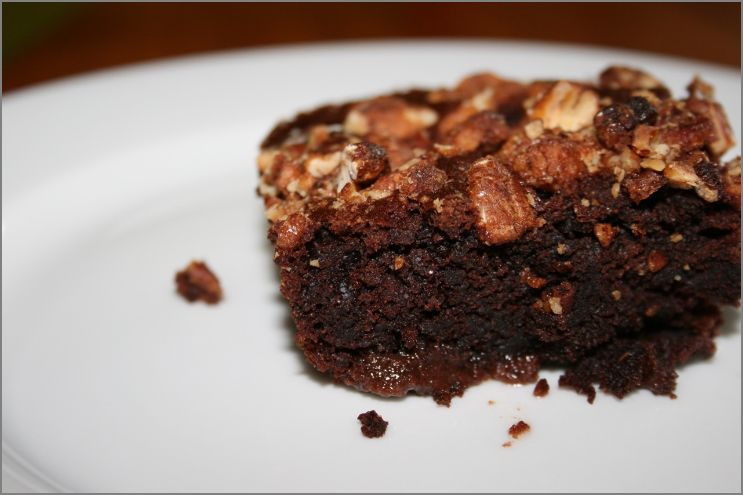 This is a family favorite coffee cake that is perfect for a cold summer morning and best enjoyed with some fresh fruit, smoothie, and/or hard boiled eggs. Excellent as a dessert as well! It is a scrumptious special treat, especially for any chocolate lovers! I have just been experimenting lately with adapting it to including the benefits of soaking the whole wheat flour, and I have had success! Hope you enjoy it as much as we do!

1 1/2 cups whole wheat flour (I used whole wheat pastry flour, but feel free to experiment with using other whole grain flours as desired)
3/4 – 1 cup natural sweetener (we use rapadura or sucanat, which are delicious!)
1/2 cup butter or coconut oil (or combination of both), in its solid state
1-2 Tbsp cocoa powder (as desired, we use 2 Tbsp)
3/4 tsp baking soda
1 1/2 tsp cinnamon
1/4 tsp nutmeg
1/2 tsp baking powder
dash of salt
dash of cloves
1/2 cup nuts (we used candied pecans for the top!), if desired
1 cup cultured buttermilk, kefir, whey, yogurt (or your preferred acid medium for soaking)
SOAKING STEP: In a large bowl, combine flour and acid medium (buttermilk, kefir, whey or yogurt, as desired). Cover and allow to soak for 12-24 hours.
After soaking, combine remaining ingredients. Pour into a greased 8 x 8 pan and cover with chopped nuts, if desired. Bake at 350 degrees for 30-35 minutes.
If you want to skip out on the soaking, follow these directions:
In a large bowl, combine the flour and sugar; cut in the butter/coconut oil until crumbly. Add cocoa, cinnamon, baking soda, baking powder, nutmeg, salt and cloves; mix well. Make a well in the center; pour in the buttermilk and stir until moistened. Transfer to a greased 8 x8 baking pan and sprinkle with nuts. Bake as instructed above.