I am excited to recommend two new recipes that I have been experimenting with lately!
Addictive Sweet Potato Burritos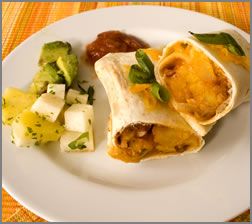 Thanks to one of my readers, I recently received and tried this Addictive Sweet Potato Burritos. I found it extremely delicious, frugal (as it is meatless) and a great freezer meal. I used black beans in replacement of the kidney beans, along with my homemade soaked tortillas and it turned out fabulously. I thought the sweet potato and bean a rather odd combination at first but was pleasantly surprised by the results. You must give it a try! You can use this as a freezer meal by simply stuffing your burritos in advanced with the cooked ingredients, covering as you desire and placing it in the freezer.
Until I can get my own, this photo is the original photo from the recipe…just to wet your taste buds! I put mine in the freezer for after baby before I could get a picture! Alas!
Baked Macaroni & Cheese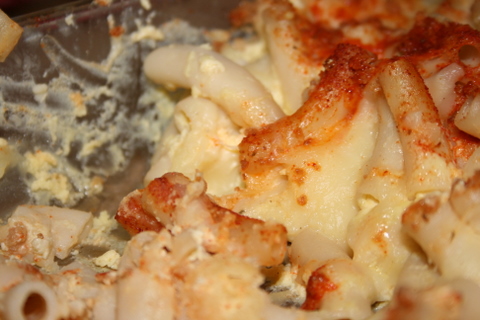 My second recommendation is Baked Macaroni & Cheese! I have been trying several recipes lately to find a delicious homemade version using my own raw milk and cheese and this is the one! I made the following changes to make it more nutritious! It remained extremely moist and full of flavor!
1 (16 ounce) package elbow macaroni (I use brown rice penne pasta, so technically it is penne & cheese at our house!)
1 cup milk, preferably raw or whole milk
2 eggs
1/2 cup sour cream
1 teaspoon seasoning salt (replaced with equal quantities of paprika, ground mustard, coriander & salt to equal 1 tsp or slightly more)
1/2 teaspoon black pepper
1 1/2 cups shredded Cheddar cheese
1/2 cup bread crumbs, optional
Preheat oven to 350 degrees F (175 degrees C).

Bring a large pot of lightly salted water to a boil. Add pasta and cook for 8 to 10 minutes or until al dente; drain and rinse with cold water.

In a bowl mix milk, eggs, sour cream, seasoning salt, and pepper. Layer macaroni, cheddar cheese, and milk mixture until pan is full. Sprinkle bread crumbs and further paprika on the top.


Bake in a preheated oven for 20 to 30 minutes or until milk mixture is done.