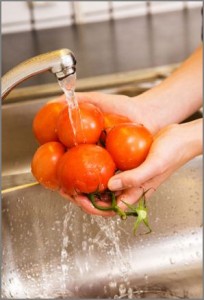 Washing your produce is a good idea, whether you are using organic or conventional produce, but particularly important with the latter. Washing your produce can greatly reduce the pesticide residue, although it cannot completely eliminate it. Peeling produce can assist in this process as well. Organic produce is free from pesticides and yet all forms of produce can become contaminated by bacteria growing in a festering fridge or picked by hands or laid on surfaces that are unsanitary in some way. Washing your produce, whatever varieties you choose, is a wise idea! I have found this homemade produce wash to be an excellent substitute for the expensive store-bought varieties!
Produce Washing Tonic
Adding a bit of lemon juice or 3-4 drops of grapefruit seed extract can give it an extra boost!
3 cups filtered water
3 Tbsp white distilled vinegar or apple cider vinegar
2 Tbsp baking soda
Mix ingredients together in a spray bottle. Spray it on fruits and vegetables. Rinse well with cold water. You may also combine in the sink to dunk your produce if you desire to wash in large batches. This tonic is not recommended on mushrooms as they will absorb the flavor.
Produce Washing Tips
1. Use a scrub brush for root vegetables, and produce with rinds, groves or waxy surfaces, and rinse well. This includes melons!
2. Discard outer leaves of leafy vegetables. Rinse each leaf individually. Make sure they are dry before storing in the refrigerator as moisture can encourage the growth of bacteria.
3. Wash more tender fruit (berries, grapes, etc) in a colander.
4. Cut produce on a clean cutting board with a clean knife.
5. Thaw meats on a separate tray or plate in the refrigerator to prevent meat juices from dripping into produce drawers.
6. Clean and sanitize the refrigerator produce drawer regularly.