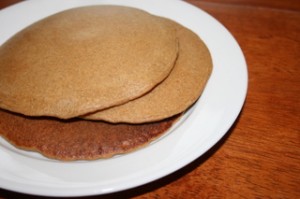 Yum! These are our all time favorite pancakes, especially for the holidays! Our tradition is gingerbread pancakes on Thanksgiving morning. These are simply delicious! Soaking steps are including for breaking down the phytates in the grain (read more here), but it can be enjoyed just as well without soaking and just proceeding through the recipe. These are wonderfully light and flavorful! Using whole grains blended in the blender will produce a lighter texture over using flour, but both options are provided for you. These freeze very well and work great for a toddler snack!
1 1/2 cups buttermilk, kefir, yogurt or alternative acid medium
2 Tbsp coconut oil or olive oil
1 tsp vanilla extract
1 1/2 cups raw whole grain (1 cup kamut & 1/2 cup oats is our favorite!) or approximately 2 1/4 cup flour (you can also use brown rice and/or millet for a gluten free alternative- the possibilities are endless!)

1. Combine the above ingredients in your blender and blend for 3 minutes if using whole grain, or 1 minute if using flour. If you are using flour, you may just want to combine with a mixer. Cover and allow to sit for 12-24 hours.
2. In the morning, add the following ingredients and blend for 1 minute.
1 egg, optional or additional liquid (just enough till it begins to swirl in a vortex)
3 1/2 Tbsp sorghum syrup or molasses
2 tsp ground ginger
1 tsp ground cinnamon
1/4 tsp ground cloves
3. Finally, very briefly blend in the leavening ingredients below.
2 tsp baking powder
1/2 tsp baking soda
1 tsp sea salt
If desired, you can add 1-2 Tbsp ground flaxseed to boast nutrition and fiber in step 2.
Prepare the pancakes on a warmed, lightly greased griddle. This recipe makes approximately 15 pancakes.
For a version of soaked pumpkin pancakes that sounds delightful, visit here. For our traditional whole grain pancake/waffle recipe, visit here.