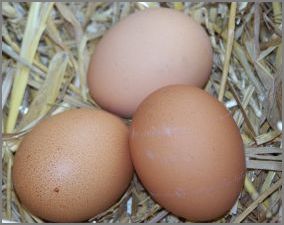 Making a large batch of quick bread and lacking the eggs required? Do you have an egg allergy? This little concoction is a great frugal replacement for eggs in all your baking needs. Replacing with this flax seed paste will not only stretch your eggs, but it will also boost the fiber content of your final product. I was making a large batch of raspberry bread for two different meetings and didn't want to use my small amount of eggs remaining in the fridge. Using this little recipe, I used half the required eggs and replaced the other half with this substitute! Worked wonders!
Flaxseed Binder

Flax seeds, due to their mucilaginous property, provide the essential "binding" effect of eggs in baking. This recipe will keep well for 2 weeks in the refrigerator. Amount is equivalent to 5-6 eggs.
3/4 cup cold water
1/4 cup ground flax seed (a small coffee grinder works well for all seed grinding!)
Combine ingredients together in a small saucepan and bring to a boil. Boil for 3 minutes while continuing to stir. Cool and refrigerate in tightly covered container. You can use the concoction immediately if desired. Use per egg: 1/8 cup (2 Tbsp) flaxseed binder. It is a sticky substance, so exact measurement is not necessary. Best to mix in with the first liquid ingredient in the recipe before adding the next ingredient.
Recipe provided in Breakfasts by Sue Gregg, a highly recommended resource.