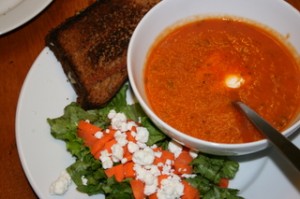 Yum! This was the first time I have explored with making my own homemade tomato soup and it was delightful! I had a pile of tomatoes from the last pick of my garden and what better way to use them but to prepare a luscious tomato soup for our family!
Come on in and I will share with you my creation…
4 cups tomatoes, diced or pureed in the blender (approximately 8 small tomatoes) – I used part of my canned tomatoes and it worked great!
1 onion, chopped
4 garlic cloves, minced or a combination of cloves and garlic powder
1 cup chicken broth
1 tsp sea salt or garlic salt
1 Tbsp dry basil (or fresh if you have it!)
dash of pepper
2-3 tsp rapadura or other natural sweetener
Saute onion and garlic in a little coconut oil till tender and translucent. Add tomatoes and chicken broth and cook over medium heat for approximately 15 minutes. Remove from heat and allow to cool slightly before transferring carefully to a blender. Puree until smooth. Return to pot and add the remaining ingredients to your taste. Delightful with a dalop of sour cream on the top!
It's supper easy and delicious…I can't imagine going back to the store bought varieties now!
Soups are a fall favorite! Here are a few others to try: Spicy Lentil Soup, Chili & Garden Chowder – all of which can be made without meat and thus very frugal, whole and nutritious!