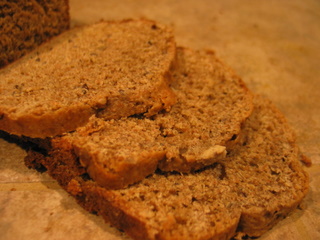 So simple! Requires no yeast, or rising. Dough will be wet and is baked like any other pastry. Results in a moist but higher density than yeasted breads, but the flavor, simplicity and quick baking process makes it a keeper! You will love having fresh baked bread so quickly without taking all day! Beware that this tends to spoil between 4-6 days (due to the milk content, I believe), so I would store it in the refrigerator to preserve it, or freeze in smaller quantities. This is a great place to start if you are a newbie at bread making too!
Spelt is a wonderfully nutritious grain. According to Sue Gregg, "Spelt dates back to Old Testament times (see Exodus 9:31, 32; Isaiah 28:25; Ezekiel 4:0). Spelt contains both soluble and insoluble fibers, spelt is easily digested and has considered beneficial for indigestion, gas, and nausea. It is rich in essential fatty acids and higher in fiber than wheat. With a higher fat and protein content than common wheat, spelt is a high energy food."
As I love exploring with different grains to get a wider rarity of nutrients, I have been exploring with this grain in bread…so here you are!
8 cups spelt flour
1/2 cup seeds (sesame, flax, sunflower, or combination)
1/2 teaspoon salt, or to taste
1/4-1/3 cup honey
3 teaspoons baking soda
4 1/4 cups milk (half and half with buttermilk or kefir)
Soaking Step, optional (to break down the phytates): Soak 8 cups of flour with liquids for 12-24 hours. This last time I used 1 cup raw milk, 3 cups buttermilk and 1/4 cup kefir (as my acid medium, because my buttermilk comes from a powder, and therefore not cultured). I left covered on the counter. After soaking, add remaining ingredients and bake.
Preheat the oven to 350 degrees F (175 degrees C). Grease two 9×5 inch loaf pans.

In a large bowl, mix together the spelt flour, seeds, salt, honey, baking soda and milk until well blended. Divide the batter evenly between the prepared pans.

Bake for 1 hour and 10 minutes in the preheated oven, or until golden. Placing a tin of the same size over the top of the loaf while baking gives it a lovely crust.]