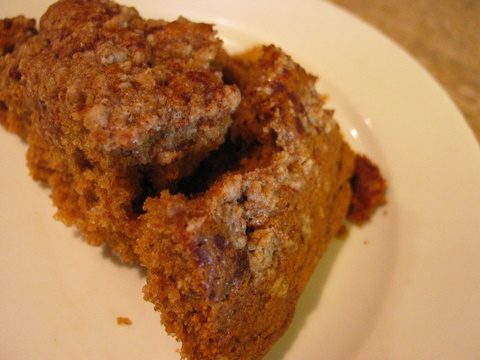 This is a light, yummy and healthy coffee cake to serve with a smoothie! I made it this morning with some more healthy changes and it was scrumptious.
2 1/4 cup flour (I combined whole wheat pastry, aka soft spring wheat & spelt flour)
1/2 tsp salt
1/2 tsp. cinnamon
1/2 cup rapadura/sucanat
1/2 cup honey
1/4 cup olive oil
1/2 cup coconut oil
1/2 cup walnuts, optional
1 tsp. cinnamon
1 tsp. baking soda
1 tsp. baking powder
1 egg
3/4 cup buttermilk, yogurt, kefir
Combine flour, salt, and 1/2 tsp. cinnamon into a large bowl. Add sweeteners and oils. Mix till well blended. Take out 3/4 cup for topping and add chopped nuts, and 1 tsp. cinnamon and mix. Set aside. To the original batter, add soda, baking powder, egg and buttermilk. DO NOT OVERMIX. If you do so, it will not rise well. Place in oiled 8×8 pan or pie pan. Sprinkle topping. Bake at 300 degrees for approx. 45 minutes, or until a knife comes out clean.
To incorporate soaking: Soak flour, buttermilk (make sure it is cultured, or add 1 Tbls whey or lemon juice), honey and oils for 12-24 hours. This will maintain a moist consistency. In the morning, add 1/2 tsp cinnamon and salt to the soaked mixture. Remove 1/2-3/4 cup of soaked mixture for topping. To the topping, add nuts and 1 tsp cinnamon. Set aside. To the remaining soaked mixture, add rapadura/sucanat, egg, and leavenings. Mix briefly to incorporate leavenings. Place in an oiled 8×8 pan and sprinkle with toppings. Bake at 300 degrees for 45 minutes, or until the knife inserted in the center comes out clean.
Enjoy!