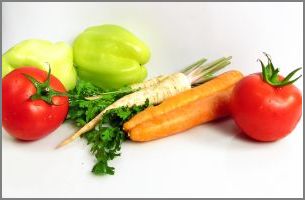 Why do we think it is impossible to live nutritiously and organically on a budget? It is because we are buying everything in a box or can! These pre-made packages of so called "organic" goodness are not as healthy as I originally thought and they jack up the food budget. The simple solution: make them yourself! It really is not as hard as you think.
My Organic Journey
When I was young my mom was quite a healthy and budget minded cook. We had all varieties of healthy hot cereals for breakfast, bought grains and legumes in bulk and made our own bread. Over time as my dad became more established financially and more children were added we became more relaxed as to our eating habits. Top-a-ramon, and boxed macaroni and cheese here we come! It wasn't until my younger brother was diagnosed with diabetes at age nine that our eating habits took a turn for the better.
We began to study and become informed on the glycemic index, low carbohydrates, etc. My mom, sisters and I took a course together from Sue Gregg on the value of cooking with Whole Grains. It was both eye-opening and very informative. As I began to prepare to get married, I began to make steps towards increasing my knowledge. Here are the steps I took after getting married. I didn't do all this at once, otherwise I would have been thoroughly overwhelmed. I took small steps but beneficial ones. Each step took anywhere from a few weeks to a couple months before I began incorporating another step. I waited till I was comfortable and it was incorporated well into our lifestyle and schedule:
1. Eliminate white flour and white sugar – replaced with whole grains, grain mill, rapadura, maple syrup and honey
3. Bought raw milk and farm fresh eggs from local farmer
4. Started making kefir, and incorporating it in nutritious smoothies
5. Began soaking my grains
6. Started buying in bulk – grains and legumes – using the wonderful resource of Azure Standard for these purchases. You can use this resource wherever you live because they ship as well!

7. Buy locally grown produce – starting to use a CSA (Community Supported Agriculture) this year! The one I found actually delivers the produce to my door and costs only $11-12 a week for produce. You get your produce the freshest possible going this route and you are supporting the local economy!
8. Buying chickens from local farmer, making my own stock
9. Making more of my own dairy products: butter, creme frache (European sour cream)

10. Making more of my own condiments: mayonnaise, dressings
In the future I may start making more of my own condiments, so as to eliminate things in a can or container…processed foods. I have come to realize the more you incorporate grains into your eating, the more satisfied you will be without have to eat a lot meat…stretching it further! This is especially true if your incorporate the benefits of soaking your grains. (More to come on this next week!) I have been able to limit my grocery stores trips from twice a month to once a month for the first time with the working out of a monthly menu plan! Little steps are helping me lower my higher food budget of $400 a month (with buying all organic) to just around $300 and going down..and we are eating a lot of fresher food and more nutritiously as well! My goal is $250-$275 a month on food…I'll keep you informed on my progress!
Know What You Eat
The important thing is to be informed! Don't just eat whatever. We are responsible for the health and well-being of our households. The Proverbs 31 woman brought her food from afar. She was seeking to provide the most healthy and nutritious food she could for her family. We must take thought to what we are supplying our bodies with. We are to glorify God in what we eat and drink but we are to also take thought as to how this food might better equip us for the service of God and the well-being of our bodies to complete that task.
Helpful Links
Dirty Dozen – Stephanie talks about how to pick the best fruit without the pesticides on a budget!
14 Tips for Eating Healthier on A Budget – another great post by Steph!
Deeper Shade of Green – Amy (Clothesline Alley) has a helpful post on living more green and nutritiously. Lots of great links and info!
Check out my Natural Living Resources links to all sorts of coupons and resources on organic living!
To be continued…how to's on making it yourself & how to make a monthly menu plan!
More ideas on Frugal Fridays!