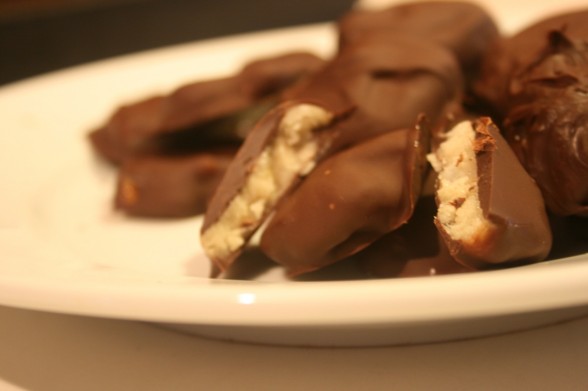 Mint chocolate is my thing…Andes Mints have my favorite chocolate for as long as I can remember. Minty freshness with a hint of sweetness just makes my day. Any other chocolate simply have no appeal to me. With the holiday season came the thought of trying to make a healthy adaption of peppermint patties for a fun little treat and gift for others. I came across Elana's Pantry version and knew I just had to give it a try. I prefer using raw honey in replacement of agave nectar for the increase nutritional value, so I adapted the recipe as follows. I also found you could use maple syrup just as easily. I also increased the peppermint extract because it needed a bit more. I doubled the recipe below and it made about 20 small peppermint patties. It turned out simply scrumptious and received rave reviews to the recipients that I shared it with. It is a simple 4 ingredient little treat for anyone!
Ingredients:
1/2 cup coconut oil (solid state – firm at temperatures below 76 degrees)
1/4 cup raw honey or maple syrup
3/4 teaspoon peppermint extract
1/2-1 cup dark chocolate chips, melted and cooled slightly (I found it easiest to melt them and thin slightly with a Tablespoon of milk to get the best consistency. Cooling is essential for it to stick correctly.)
Directions:
1. Combine the coconut oil, honey/maple syrup, and peppermint extract in a food processor or blender till smooth.
2. Place in freezer until the ingredients are fairly solid (15 minutes or so).
3. Scoop out mixture with a 1.5 teaspoon scoop or whatever you have on hand (I used a standard Tablespoon) and form small balls on a parchment paper/wax paper lined cookie sheet. Press down into flattened rounds. (It will naturally melt a bit when brought in contact with your hands, so quickly form little mounds but don't stress for perfection, because it will not happen.

4. Transfer back to the freezer to solidify again.
5. Remove from freezer after they are firm again and dip with a spoon into your melted cooled chocolate until fully covered. Allow 10 minutes or so to harden. Store in refrigerator until you are ready to consume.
Yield: 10-12 small patties (if you want to make them larger, go for it!)
Enjoy!